Phonetics & Phonology Research Group.

The Phonetics & Phonology Research Group's main focus is on speech in its natural settings. We are one of the biggest groups working on phonetics and phonology in Britain. Most of the data we use is taken from natural settings, and our work covers both macro- and micro-level analysis of speech data. Much of our work looks at the relations between phonetics and phonology.

Areas of expertise:

the phonetics of conversational interaction
child phonology
social variability in phonetics and phonology
laboratory phonology
forensic phonetics
declarative phonology
Firthian Prosodic Analysis
Languages we have worked on include English, French, Dutch, Finnish, Malayalam, and Nenets. We have presented our work at (among others) ICPhS, LabPhon, the Manchester Phonology Conferences, Euresco conferences on Interactional Linguistics, and the Colloquium of the British Association of Academic Phoneticians.

We have working links with colleagues at Newcastle, Cambridge, Boulder Colorado, Michigan, QMUC Edinburgh, Helsinki, and Sheffield, among others.

We are:

Staff: Paul Foulkes, John Local, Richard Ogden, Ros Temple
Researchers: Paul Carter, Traci Curl
Research Students: Leendert Plug, Gareth Walker, Melissa Wright

Here's a photo of some of us taken at the BAAP Colloquium in Newcastle, March 2002.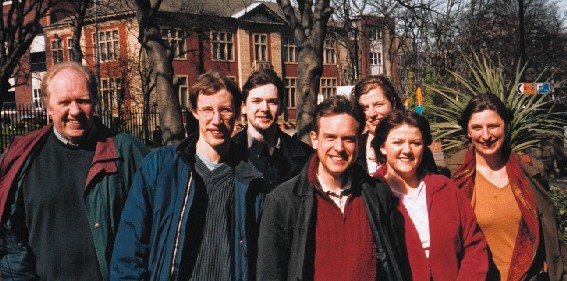 Left to right:
John Local, Leendert Plug, Gareth Walker, Richard Ogden, Traci Curl (back), Melissa Wright (front), Ros Temple.