Music Department Staff at The University of York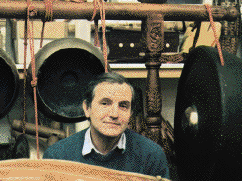 Neil Sorrell
Neil Sorrell was born 1st June 1946 in Toulouse, France. He obtained a B.A.in Music from the University of Cambridge in 1967,
an M.A.in Area Studies (specialising in North Indian music) from the School of Oriental and African Studies, University of London in 1969, and a Ph.D. in Ethnomusicology (with a thesis on North Indian music) from Wesleyan University, Middletown, Connecticut in 1980. He is a Senior Lecturer in music at the University of York, UK, specialising in Asian music, and he was the first ethnomusicologist to be appointed to a British university music department (in 1973). His doctoral thesis was on Indian music, and he is the author (with his teacher, the great sarangi player, Pandit Ram Narayan) of Indian Music in Performance: a practical introduction (Manchester University Press, 1980). He has been active since 1975 as a teacher, performer and composer of Javanese gamelan music, and has lectured and published widely on the subject. In 1980 he co-founded the English Gamelan Orchestra, the first group of British musicians dedicated to the study, composition, and performance of music for the Javanese gamelan, and in 1981 he organised the manufacture by Tentrem Sarwanto of Gamelan Sekar Petak, the first complete Javanese gamelan in a British teaching institution. Gamelan Sekar Petak has toured Britain, and also performed in Italy in 1984, and in 1987 gave the first performance of Javanese Wayang Kulit (shadow theatre) accompanied by British gamelan players. In 1993 he supervised the acquisition of a gamelan by La Cité de la Musique in Paris, also made by Tentrem Sarwanto and named Gamelan Sekar Wangi by him, and he has also taught and performed in Paris. He is the author of A Guide to the Gamelan (Faber and Faber, 1990).

His teaching at York concentrates on Indian and Javanese music, but recently Thai music has been added to the curriculum, and the department owns a set of Thai Pi-Phat instruments which he acquired in 1989. (Click here for more details on ethnomusicology at York.) He has also taught courses on Wagner, Debussy, Improvisation and Aural Analysis, and he directed four of the department's Practical Projects, presenting works as diverse as Javanese shadow plays, Benjamin Britten's early operetta Paul Bunyan, and H.K. Gruber's Frankenstein!!.

He has written, broadcast and lectured around Britain, and also the United States, France, Italy, Switzerland, Sweden, India, and Indonesia, on Indian and Javanese music, providing entries for the Encarta Encylopedias and numerous insert notes for compact disc recordings of Indian music issued by the Nimbus and Navras companies. He has been invited to address conferences in India and also to interview several leading musicians, including Vilayat Khan, Ram Narayan, Hariprasad Chaurasia and Shivkumar Sharma at the Nehru Centre in London, and his interviews with Ravi Shankar and other famous musicians have been published in the Gramophone magazine. In 1994 he participated, as composer and workshop leader, in the Rhythms of Harmony Festival in Indonesia, which brought together the British percussionist, Evelyn Glennie, and the gamelan musicians of S.T.S.I.Surakarta.
Recent research has also focussed on Thai music, and he has produced the only detailed study in English of the distinguished Thai composer, the late Prasidh Silapabanleng.

He has composed several works, mostly for gamelan, among which may be mentioned Mas in 1 minor, for Baroque flute and gamelan, first performed by Edwina Smith and Gamelan Sekar Petak at the Cheltenham International Festival of Music in 1986, Pibrokan, for marimba and gamelan, first performed by Evelyn Glennie and the gamelan musicians of S.T.S.I. Surakarta at the Jakarta Convention Centre in 1994, Eastern Gas, for gamelan and percussion, first performed by Evelyn Glennie and Gamelan Sekar Petak at the York Barbican in 1999, and L'allée des clochards, for piano and gamelan, first performed by Nicky Losseff and Gamelan Sekar Petak at the Cheltenham International Festival of Music in 2000.

Neil Sorrell is a recipient of the 1999 Hafiz Ali Khan Award, an international award presented by the Ustad Hafiz Ali Khan Memorial Trust, Gwalior, India, in recognition of contributions to Indian classical music.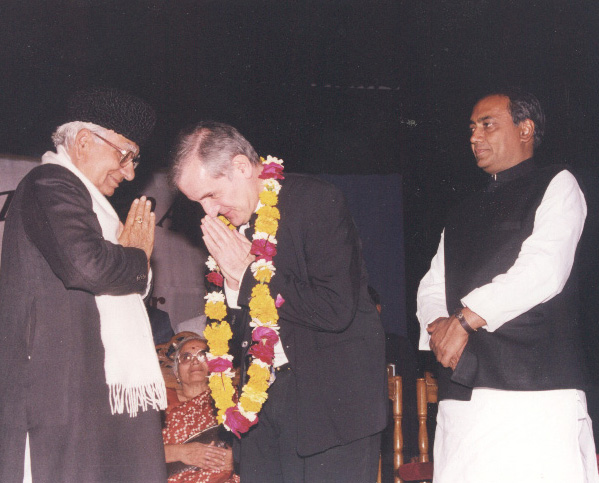 receiving the Hafiz Ali Khan award from the Vice President of India, with the Chief Minister of Madhya Pradesh
looking on. Gwalior, 31 January 2000.


Click here to return to Music Department staff or
Click here to return to the Music Department Welcome page.