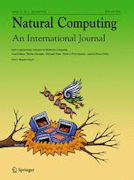 Paul S. Andrews, Susan Stepney.
EmergeNET4: engineering emergence.
Natural Computing 11(3):415-6, 2012
Introduction:
EmergeNET is a UK EPSRC-funded network (EP/E062814/1) to promote interest in complex systems and emergence by bringing together established researchers, those new to the area, and the public.
In 2010, EmergeNET sponsored its fourth workshop, in York, on the theme of Engineering Emergence in complex systems. Complex systems are characterised by low-level components that communicate and interact with and within an environment, resulting in the emergence of high-level system behaviours and properties. Complex systems are often designed to help understand emergence or to exploit emergent behaviours to help solve problems in the real world. Emergent behaviours are by definition a function of the overall system rather than of any individual component, which makes the engineering of these behaviours a non-trivial activity.
After the workshop, an open call for a special issue of Natural Computing on the topic of Engineering Emergence was launched. Of the papers submitted to this call, five were selected for publication after review. The papers presented here cover a broad range of issues to do with engineering emergence, including design principles, simulation architectures, and software and hardware applications.
@article(Andrews-SI-2012,
  author = "Paul S. Andrews and Susan Stepney",
  title = "EmergeNET4: engineering emergence",
  journal = "Natural Computing",
  volume = 11,
  number = 3,
  pages = "415-6",
  doi = "10.1007/s11047-012-9327-8",
  year = 2012
)