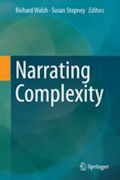 Leo Caves, Ana Teixeira de Melo, Susan Stepney, Emma Uprichard.
Time Will Tell: Narrative Expressions of Time in a Complex World.
in Richard Walsh, Susan Stepney (eds) Narrating Complexity, chapter 19, pp.269-284. Springer, 2018

Abstract:
Time is intrinsic to all complex systems. Here we explore the complexity of time from three different disciplinary perspectives: the physical, the biological and the social. We do this by listing some expressions of time taken from everyday speech and idioms and relating them to complex temporal concepts that are central to these different disciplines. The result is a series of small sections that together weave a particular interdisciplinary (hi)story of time in complexity.
doi:10.1007/978-3-319-64714-2_19

  @inproceedings(Caves-ch19-2018,
  author = "Leo Caves and Ana Teixeira de Melo and Susan Stepney and Emma Uprichard",
  title = "Time Will Tell: Narrative Expressions of Time in a Complex World",
  chapter = 19,
  pages = "269-284",          
  crossref = "Walsh-2018"
)

  @proceedings(Walsh-2018,
  editor = "Richard Walsh and Susan Stepney",
  title = "Narrating Complexity",
  booktitle = "Narrating Complexity",
  publisher = "Springer",
  year = 2018
)