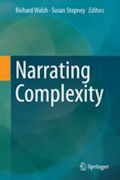 Susan Stepney, Richard Walsh.
From Simplex to Complex Narrative?
in Richard Walsh, Susan Stepney (eds) Narrating Complexity, chapter 23, pp.319-322. Springer, 2018

Abstract:
This concluding chapter recaps the challenges to narrative understanding presented by complex systems, and speculates upon the prospects for meeting these challenges through different conceptions of "complex narrative".
doi:10.1007/978-3-319-64714-2_23

  @inproceedings(Stepney-ch23-2018,
  author = "Susan Stepney and Richard Walsh",
  title = "From Simplex to Complex Narrative?",
  chapter = 23,
  pages = "319-322",          
  crossref = "Walsh-2018"
)

  @proceedings(Walsh-2018,
  editor = "Richard Walsh and Susan Stepney",
  title = "Narrating Complexity",
  booktitle = "Narrating Complexity",
  publisher = "Springer",
  year = 2018
)