It must be thirty years ago that I first read my sister's copy of Annabel and Bryony, and I was utterly enchanted by it. So much so that whenever I went into a second hand bookshop (and I do that quite frequently) I searched for a copy for myself. After more than twenty years of my hopeless searching, consoled by the occasional re-read of that original, seven years ago my sister presented me with a battered, wonderful old copy that she had found for me. In the intervening years I have grown older, and it has grown more dated. I am not so utterly enchanted, but I do remain captivated, partly by the remembrance of my original feelings, but also by the contents read through adult but sympathetic eyes.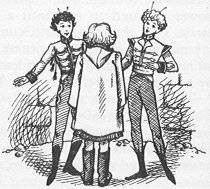 On the surface this is a relatively conventional story of four children -- Nick, Virginia, Dick, and the youngest Annabel, and their adventures in fairyland. (The marvellous illustrations by Pauline Baynes add a faint flavour of an escapee from Narnia, too.) But it has a charm and an inventiveness all of its own. One Christmas Day the four children discover a young fairy, lost, who cannot find her own way home. So they set out to help her, but immediately discover the journey is fraught with peril, as they are captured by the enemy winter Frost Fairies. The first half of the book is their escape and travel back to fairyland, and the second is with their adventures in fairyland itself.
What makes this different from most such stories, though, is the way that the soldier fairies treat the children as adult soldiers from the start, because of their size (which denotes wisdom in fairyland), and the way the children, for the most part, rise to this. It is underneath a morality tale about responsibility, respect and maturity, but told with a delicate touch. (A modern take would probably try to add some gritty realism, which would totally destroy the effect.) The fairy society, with the antics of the Ensigns, the more senior Lieutenants, and the mature Captains, all gorgeously decked out according to the various flowers they represent, is fascinating.
And the best part is, as the story closes satisfactorily with the children going home again, the ending of "Till the summer!" promises a sequel.