Visual Explanations is about pictures of verbs, the representation of mechanism and motion, of process and dynamics, of causes and effects, of explanation and narrative. Since such displays are often used to reach conclusions and make decisions, there is a special concern with the integrity of the content and the design.
Tufte starts his third crusade with a chapter on the importance of scale and context. He illustrates this with his redrawing of a thunderstorm animation (featured on the cover): the original has lost its dimensions, in particular, the fact that the vertical scale is exaggerated by a factor of two. He also has harsh words for the spectacular video of the Venus flyover, constructed from radar data, where the vertical scale is multiplied by a factor of 22.5, with no indication of this fact to be found anywhere on screen. (This enormous misrepresentation even led to a call for a "Flat Venus Society"!)
Next he moves on to praising John Snow's famous map of the cholera epidemic death data around the Broad Street pump, London, 1854, that provided the first proof that cholera was spread in contaminated water. Tufte explains in painstaking detail everything that Snow did right, and how subsequent generations have failed to emulate him, from sloppy copying of the original cholera map, to sloppy collection and representation of their own data.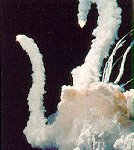 In particular, he discusses at great length the infamous O-ring flaw that led to the Challenger space shuttle explosion on 28th January 1986. The data to explain the effect of temperature on the O-rings was available well before the launch, but was never presented in a way that made the problem apparent (let alone obvious). Here I don't know whether to be impressed at the simple clarity and persuasiveness (even with the benefit of 20-20 hindsight) of the graph Tufte presents, or just plain horrified by the crudity of the original "explanations".
In an amusing section on magic tricks, Tufte analyses how they work, and so how not to present comprehensible explanations. Such things as: never explain what you are going to do; never do the same trick twice; obscure small important movements with large unimportant ones.
The final part of the book covers confections, or "assemblies of many visual elements" that "illustrate an argument" and "present and enforce visual comparisons". He illustrates this theme with engravings from the frontispieces of old books. I think I may have missed the point of this part of the book. Some of the drawings are very pretty and clever, but they take a kind of artistic skill not possessed by many. From the rest of Tufte's teachings I have learned to draw better graphs and diagrams, to think more critically about the design of my data displays, and to notice better when others' displays are confusing or misleading. But I'm not sure what I can do with this last section.
No matter. Like his previous books, Visual Explanations contains wonderfully thought-provoking (and in the case of Challenger, heart-breaking) examples: a beautiful addition to his series. My only worry: will we have to wait another 7 years for volume 4? Even if we do, I'm sure it will be worth it.