Dusk to Dawn
Cambridge Corn Exchange
Tuesday 18 May 1999
My second Capercaillie concert, which I enjoyed as much as my first . (But I still thought the balance between vocals and instrumental was slightly wrong -- the vocals again got drowned out on a couple of occasions, especially during some of the great "mouth music" numbers.) There was one massive improvement over the previous concert, though: the warm-up act. This time around it was Brendan Power (mouth organ) and Andy White (guitar/vocals), playing folky numbers. The act wasn't out of this world (except maybe Lament for the 21st Century , a mouth organ solo with tons of reverb, which was something special), but it was certainly pleasant enough to listen to.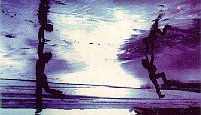 This is the tour to accompany Capercaillie's new "Best of" album, Dusk to Dawn , which I must admit I haven't got, since I think I already have all the tracks, from the original albums. The line-up was Karen Matheson (vocals), Donal Shaw (accordian/keyboards), Marc Duff (recorder/whistles/bhodran), Charlie McKerron (fiddle), Manus Lunny (bouzouki), Michael McGoldrick (flute/pipes), Ewen Vernal (bass guiter), Wilf Taylor (drums), and Chimp (percussion).
Again, most of the performance comprised the toe-tapping instrumental jigs and reels, with superb performances from the flute and fiddle, and the highly complex and fast Gaelic "puirt a beul" or "mouth music". There were also a few of their slower songs (slow in absolute terms, that is; everything is slower that puirt a beul !).

And again there were two encores, although some of the audience didn't seem to understand the game, and left during the applause. [Hint, folks: if the house lights haven't come up, there's almost certainly an encore waiting in the wings.] For the first, it was a song from their album To the Moon : "God's Alibi" (with the opening lines "Spring in Macedonia/The last clean pocket on a blood soaked coat", written several years ago, but now given special significance by the current Kosovo situation), followed by a mood change with several lively reels. For the second, they performed one of my favourites, the Delirium album song "Coisich, a Rùin" (which I felt wasn't as sharp a performance as the last time I heard it, but still greatly enjoyable).
Another excellent evening's music.
reviewed 22 May 1999