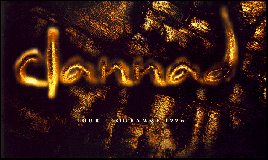 Cambridge Corn Exchange
Sunday 12 May 1996
My first Clannad concert, and I thoroughly enjoyed it. There was a bit of a problem with the sound system for the first couple of songs, but it got fixed, and was much better after that. The Cambridge Corn Exchange does not have the best acoustics in the world: the sound was very slightly muffled. Also, I thought the instruments were a little too overpowering, almost drowning out the voices on occasion. (Máire Brennan sang one song completely unaccompanied -- breathtaking.) But despite the minor imperfections, I loved it.

This is the tour to accompany their new album, Lore. They sang four songs from it: "Seanchas" ("Lore"), "A Bridge (That Carries Us Over)", "Alasdair MacColla", and "Trail of Tears". (I don't think that Clannad's version of "Alasdair MacColla" is as good as Capercaillie's on Sidewaulk -- not as energetic. But this live version was much better -- much more bite.) The rest were from earlier albums, including a couple I hadn't heard before.
The obligatory guest artist for "In A Lifetime" was Brian Kennedy, who also provided the warm-up. (I would choose to miss the warm-up if I went again.) He did a passable imitation of Bono, but, fortunately, wasn't quite as OTT.
Vinny Kilduff got a solo on the Tin Whistle -- a bravura performance. I'm not sure I really believe fingers can physically move that fast.

Some of the lighting effects were excellent, too. In particular, the 'cones of light' over the main performers of "The Theme from Harry's Game" gave the paradoxical impression that they were simultaneously floodlit and unlit!
The little introductory remarks before various songs were refreshingly unstudied -- almost 'amateur' -- and gave the warming feeling that these were just a group of people putting on a show for us, their friends. But there was nothing 'amateur' about the music, and especially not about the singing. (I would listen to Máire Brennan singing a telephone directory: she has an amazingly beautiful voice.)
An excellent evening's music. I'm now eagerly waiting for the next tour (but I'll try to catch it at a different venue).
reviewed 23 May 1996