I always carry a pair of earbud headphones in my coat pocket because I like to listen to
Audible
books when walking the dog or walking to work. Inevitably they often get very tangled. So I was very keen to get a set of
Proporta's retractable headphones
: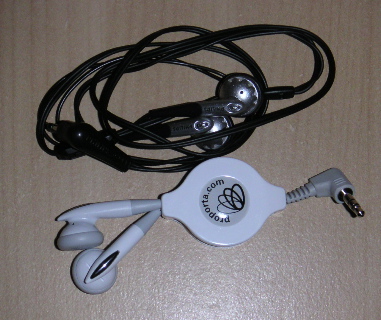 These use exactly the same spring-loaded retracting reel as the now familiar retractable USB cables, though the reel is a bit bigger in order to accommodate the two wires (stereo!) and the extra length. For the purpose of this mini-review, I am going to compare them to my Philips earbuds (in the photo above) which cost almost exactly the same.
Weight: The Philips weigh in at a tiny 15g, the Proporta weigh 50% more, but still only 22g.
Length: both 105cm which is plenty for all but a giant wearing cargo pants.
Quality: I am no expert, but testing them on my Palm and on my Mac I
could
spot a difference in quality:-
1. The Proporta headphones have a good loud sound which cuts through background noise very well.
2. The Philips have much better bass, which gives a more rounded sound. Purists might call the Proporta sound 'reedy'.
3. The Proporta are slightly less prone to crackle at loud volumes with higher notes.
4. The Proporta sound better with the spoken word, making it very easy to follow what is being said, the Philips do better with music (I used Norah Jones for the test).
My impression is that these will do very well for the market they are aimed at: PDA users. If you are after a really top-quality music experience you would not be listening to MP3s on a PDA in the first place, and you would not dream of buying £10 headphones. But if you want a handy pair of 'phones to keep in your pocket or bag to listen to a tune or a book in a moments snatched leisure, these are exactly what you need. And I
really
noticed the benefits of the cable reel while doing the tests, for I had to untangle the Philips earbuds three times in 10 minutes as I swapped different headphones across different devices. The Proporta headphones will certainly be living in my coat pocket from now on.