Until I was caught in a major hailstorm on Sunday, this part of the world had been enjoying a warm dry spring, and I had been out an about, largely walking the dog, without a coat. This revealed to me that the
Covertec
case makes my T|E slightly too bulky to carry comfortably in a trouser pocket while tramping across hill and dale.
So I assuaged my Zire 72 desire by ordering a new, slimmer, case for my T|E from
E&B Cases
. A summer case, as it were. You get a sense of why the Covertec case was a bit bulky from this photo: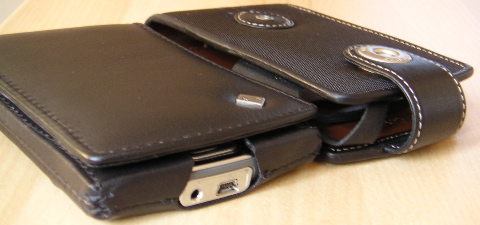 The Covertec design is basically a back and front rigid padded cover with a holster inside to hold the Palm, whereas the E&B is much more like a glove.
The E&B case manages to be thinner, more protective and to retain the feel of the Palm in the hand. It also has cut-aways to allow access to the headphone jack and the reset button, two notorious omissions on the Covertec case. In fact, after six months use I can say that the Covertec case reminds me a bit of the
Pompidou Centre
: elegant, stylish, aggressively 'functional' but rather impractical.
You learn something new every day! I think the PalmOne built-in Notepad application is very good: quick, efficient and not unnecessarily complex. Real Zen of Palm stuff. But it has two weaknesses compared to its rivals (BugMe and DiddleBug): you need to use the menus or command bar to set an alarm, and there is no option for repeat alarms.
It turns out that I was wrong about the first weakness. When you have set an alarm a little alarm clock icon appears to the right of the date, and tapping this will allow you to edit the alarm. But prior to setting an alarm, there is no icon. However, and this was my big discovery this morning (little minds etc.), if you tap where the icon would appear, even if it is not there, the alarm settings dialogue pops up!