I am not a great games player on my Palm, but I have found that over the years I have been tempted by and bought quite a few games. I tend to get pretty bored with them quickly, but there is one that I have been playing in the odd spare minute for three years now, so I thought it deserved a mention. The idea behind Bubblet from Oopdreams has been cloned and adapted several times, but I am still happy with the original.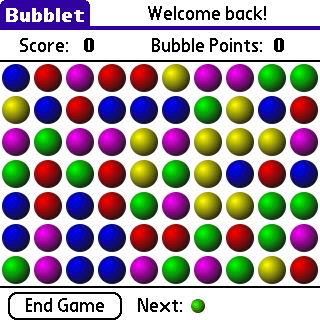 The idea is to get rid of the coloured bubbles by tapping them, and the larger group one taps away, the more points one gets. there are a few variations determining how bubbles drop down into gaps and whether new ones appear. High scores and cumulative average scores can be posted on the internet.
Bubblet requires a small amount of thought but not too much, and places no demands upon the speed of your reactions or your hand-eye coordination. It is quite simply very relaxing. And one big bonus for me is that you can stop a game at any point and pick it up again later without loss, which is essential if you are continually pestered by family.
A really good piece of software is moving towards the
lemon category
. NormSoft has just announced a paid-for upgrade to PocketTunes which they describe thus:
Pocket Tunes now integrates with Windows Media Player on Windows PCs. You can copy and organize your music from your PC without using slow HotSync or inconvenient card readers. Just start Windows Media Player on your PC and click "Copy to Device".

Only available in the deluxe version, you can now play WMA (Windows Media Audio) music files. Windows Media Player uses WMA music files by default when copying CDs to your computer, so many people will find this to be very convenient. In addition, with WMA files, you can fit more music on your handheld due to the smaller file size.
Version 2, without all this Windows functionality, is not available for download let alone purchase.
I am going to write to them and suggest that instead of dividing the Windows functionality across the Basic and Deluxe versions like this, they have an (expensive) Windows version and a cheaper version for non-Windows users. Oh, and the cross-grade from v.2 Deluxe to v.3 Basic (aka Windows free) should be free.
Alternatively, they could make believable promises about developing iTunes support. After all, it cannot be that difficult:
Audible
managed it.