Tony Sudbery
<![if !vml]>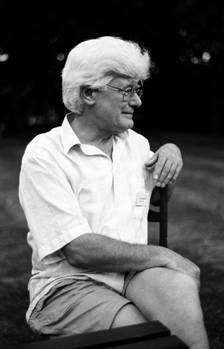 <![endif]>                            Professor, Department of Mathematics, University of York,
                            E-mail: as2@york.ac.uk
                            Phone: 01904 43 3081, (+44) 1904 43 3081 (international)
                            Office: Goodricke G/103
                      Current research interests:         
                                    Quantum information theory
                                         Foundations of quantum mechanics
                                         Exceptional Lie algebras
Exactly Solvable Systems in Quantum Field Theory
A meeting to celebrate the 60th birthday of Professor Ed Corrigan, Head of the Department of Mathematics, was held in York on 10-11 August 2006. Details can be found here.

Alice and Bob in the Quantum Wonderland
The Merchant Adventurers' Science Discovery Lecture, given in York on 7 March 2006. The PowerPoint file for this lecture can be seen by clicking here. The lecture included Alice and Bob Get Away With It, in which our protagonists use quantum pseudo-telepathy to cover their tracks. The script of this playlet, together with a technical explanation, can be found here.
Plenary lecture at the IVth International Symposium on Quantum Theory and Symmetries, held in Varna, Bulgaria, 15-21 August 2005. The transparencies for this talk can be seen by clicking here. The published version of the talk can be found here.

LMS Workshop on Quantum Information Theory
This took place in York on 6-8 July 2005, culminating in an LMS Regional Meeting on the 8th. For a list of participants and a programme with further details of some of the talks, click here.
Publications
Division algebras and exceptional Lie algebras