Introduction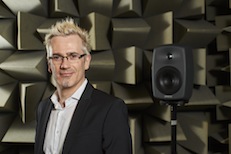 Damian Murphy is Professor in Sound and Music Computing at the Department of Electronic Engineering, University of York, where he has been a member of academic staff since 2000, and is the University Research Champion for Creativity. He started his career in the Performing Arts Department at Harrogate College and has previously held positions at Leeds Metropolitan University and Bretton Hall College. His research focuses on virtual acoustics, spatial audio, physical modelling, and audio signal processing.
This research formed the basis of the Surrounded by Sound project that was selected for inclusion in the Royal Society's Summer Science Exhibition in July 2001, and he was also co-author of SoundFX - Making Music with Technology, the 2004 IEE touring Faraday Lecture. He has been principal investigator on a number of AHRC and EPSRC funded projects relating to room acoustics simulation and auralisation, and published over 130 journal articles, conference papers and books in the area. He is a member of the Audio Engineering Society, a Fellow of the Higher Education Academy, and a visiting lecturer to the Department of Speech, Music and Hearing at KTH, Stockholm, where he specialises in spatial audio and acoustics. He has held visiting researcher status at a number of universities internationally.
Prof. Murphy is also an active sound artist and in 2004 was appointed as one of the UK's first AHRC/ACE Arts and Science Research Fellows, investigating the compositional and aesthetic aspects of sound spatialisation, acoustic modelling techniques and the acoustics of heritage spaces. His work has been presented in galleries nationally and at festivals and venues internationally and included varied collaborations with writers, photographers and interactive digital artists. He is a founding member of Geodesic Arts through which most of his more recent work has been produced.