The difference between our data and HadCRUT4 provides an estimate of coverage bias. Changes in coverage bias are controlled by two factors: Changes in the temperature contrast between the observed and unobserved regions, and changes in coverage. The two combine in a way analogous to the product rule in calculus.
There is a possible coverage issue: The most northerly station in the CRU data for the eastern hemisphere is POLARGMO. Data from this station are missing from Jan 2001 to Oct 2004 (SANNIKOVA STRAIT also has a gap in 2004). Without this station the central Arctic has rather less complete coverage, and as a result reverts naturally towards the global mean. Could this explain the jump? In this case no, the effect of removing this station is only about 0.01C.
The other alternative is temperature contrast. The MERRA weather model reanalysis does not assimilate weather station temperatures and so can be used as an independent test. The MERRA annual temperatures for our central Arctic test region are shown in the following figure, with 2004 highlighted in blue.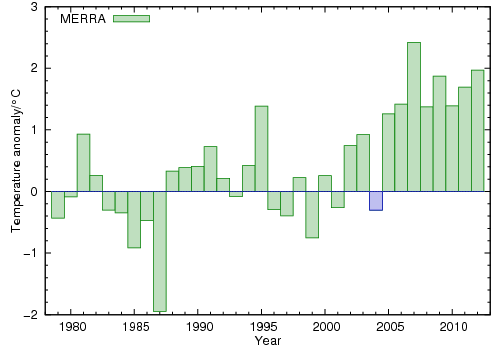 The MERRA temperature estimates for the central Arctic suggest that 2004 is over a degree cooler than 2005, and the jump from December 2004 to January 2005 is over 3°C. As a result the impact of leaving the Arctic out of the temperature data changes dramatically between the two months, creating a noticeable change in the HadCRUT4 bias. The step difference between our reconstruction and HadCRUT4 is an expected result of omitting the Arctic under these circumstances, and arises from coverage bias in the HadCRUT4 reconstruction.
The unobserved regions in the Antarctic are much larger and so also play a part even though the changes in the Antarctic are less extreme.