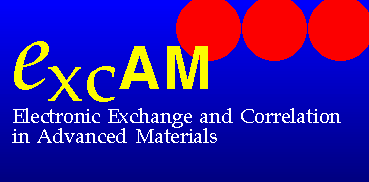 EXCAM Workshop 1997
Electronic Exchange and Correlation in Advanced Materials
Thursday 11 September - Friday 12 September 1997
CECAM, Lyon

A small, informal, 2-day workshop on the electronic and optical properties of solids and structures, with a focus on ab initio computational work. The workshop is primarily intended as a forum for presentation and discussion of the research of members of the informal EXCAM Network, but other participants will be welcome, subject to space restrictions.
Participation by graduate students and postdocs from the EXCAM teams is particularly encouraged.
The registration fee will be very small, or zero. However, financial support from the workshop for graduate students and others is not available this year.
Hotel accommodation is available close to CECAM, and some inexpensive accommodation in the Ecole Normale Superieure may be available. Further details are available from the CECAM home page.
Organiser: Rex Godby (University of York)
The EXCAM workshop will follow the 3-day CECAM workshop "Excited Electrons in Molecules, Solids and Atoms" which will take place from 8-10 September. Those participating in both are encouraged to consider the very different audiences when planning their presentations.
A registration form is available here. This should be completed and sent by e-mail to the organiser.
The workshop will start at 09:30 on Thursday 11 September, in the CECAM lecture theatre, Ecole Normale Supérieure, 46, Allée d'Italie, Lyon. Precise information on how to get to CECAM, including maps, is available at the CECAM Home Page.
Full Programme
is available here, including links to abstracts of talks.
List of abstracts and contact details of participants
is available here.

---
Please contact Rex Godby (e-mail rwg3@york.ac.uk) about any organisational matters.
---