Review
This remake of the 1980's Jodie Foster film is great fun. I watched it on a transatlantic flight, and, due to confusion with the schedules, missed the first five minutes, so didn't know what film it was until the end.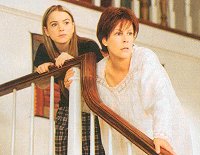 However, it was interesting that my companion in the next seat and I realised it was going to be a "body swap" film at exactly the same moment.
The mother/daughter swap is done very well. Jamie Lee Curtis as the mother is very good, and acts the teenager well. Lindsay Lohan as the daughter is excellent -- her transformation from sulky teenager to horrified adult-in-teen body is superb. There are lots of good gags ( at least you know he likes you for your mind ), and the ending is not as treacly as it might have been.