I never fully understood [the label of 'escapist'] till my friend Professor Tolkien asked me the very simple question, 'What class of men would you expect to be most preoccupied with, and most hostile to, the idea of escape?' and gave the obvious answer: jailers.
-- C. S. Lewis, "On Science Fiction"
If science fiction is exploring how technology affects people's lives, then one of the best SF movies ever made was Singin' in the Rain
Defining what SF is (distinguishing it both from fantasy, and from mainstream techno-thrillers) is a favorite pasttime for many. Some have very definite views, although Margaret Atwood is less certain: she can't decide if the definition is " talking squids in outer space " or " talking cabbages ". I'm going to sidestep the issue. But if you are interested, here are some others' definitions of SF (somewhat more cogent than Atwood's), plus further links.

SF books
Here are my idiosyncratic recommendations of the SF Books I like. I guarantee that you will like these books if you like the same books that I do! (Those I loathe are too numerous to list.)
SF has different reading protocols from mainstream fiction. Just consider the phrase 'Her world exploded'
Lost in the Translation -- mangled book titles
I read science fiction because it's not about the mundane, ordinary problems that we face every day. I read science fiction because I want to argue humanity's case before a galactic tribunal. I read science fiction because I want to battle hideous creatures beneath the hurtling moons of Barsoom. I read science fiction because I want to go on a covert mission inside the city of the alien beings who hold humanity in thrall. I read science fiction because, well, hexapodia is the key insight.
-- Pete McCutchen, rec.arts.sf.written, October 2000
"I will not turn into a snake. It never helps."

I get a bit tired sometimes of just how easily the baddies are defeated. I wish more authors would take the advice in Peter's Evil Overlord List. And there's an equal-opportunity Evil Empress page, too! (EvilRulers.com collects these, and also includes similar good advice for Heros, Sidekicks, Evil Henchmen, True Loves, Innovcent Bystanders, and more.)
I also get a bit tired of formulaic fantasy. Nick Lowe's article The Well-Tempered Plot Device explores some of these formulae, such as "Collect the Plot Coupons", the "Universal Plot Generator", and the "deus ex machina" in SF and fantasy.

SF films and TV
My lists of the SF Films I like, and loathe.
My lists of the SF TV shows I like, and loathe. These include those currently airing, and also on-video blasts-from-the-past.
Of all SFnal media, TV suffers the most from technobabble.
The combination of SF films and computing generates its own subculture of jokes.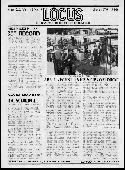 SF magazines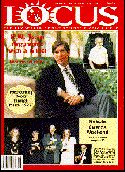 Dave Langford's on-line Ansible
The essential monthly Locus: book reviews, publishing news, author interviews
-- News of the Week, Gallery, Site of the Week, Interviews,...
I insist on living in a world where the word 'feminist' is as quaint as the word 'suffragette'.
-- Pat Cadigan, The Net BBC2, 8 June 1994
SF Conventions
future
past
My notes on some cons that I have attended
(view locations in a larger map).

CoNZealand: 78th Worldcon 2020, New Zealand [moved online]
Concentric : 71st Eastercon 2020, Birmingham [cancelled]
Dublin 2019: 77th Worldcon 2019, Dublin, Ireland
Ytterbium : 70th Eastercon 2019, Heathrow
Follycon : 69th Eastercon 2018, Harrogate
Worldcon 75: 2017, Helsinki, Finland
Innominate : 68th Eastercon 2017, Birmingham
Mancunicon : 67th Eastercon 2016, Manchester
Dysprosium : 66th Eastercon 2015, Heathrow
LonCon 3: 72nd Worldcon 2014, London Docklands
Satellite 4: 65th Eastercon 2014, Glasgow
Eight Squared Con: 64th Eastercon 2013, Bradford
Olympus2012: 63rd Eastercon 2012, Heathrow
Illustrious: 62nd Eastercon 2011, Birmingham
Odyssey2010: 61st Eastercon 2010, Heathrow
Constitution: Unicon 23, Cambridge
LX: 60th Eastercon 2009, Bradford
Orbital 2008: 59th Eastercon 2008, Heathrow
Contemplation: 58th Eastercon 2007, Chester
Concussion: 57th Eastercon 2006, Glasgow
Interaction: 63rd Worldcon 2005, Glasgow
Paragon2: 56th Eastercon 2005, Hinckley
Concourse: 55th Eastercon 2004, Blackpool
Seacon: 54th Eastercon 2003, Hinckley
Helicon 2: 53rd Eastercon 2002, Jersey
Paragon: 52nd Eastercon 2001, Hinckley
Novacon 30, Birmingham
2Kon: 51st Eastercon 2000, Glasgow
Reconvene: 50th Eastercon '99, Liverpool
The Wrap Party, Heathrow
Intuition: 49th Eastercon '98, Manchester
Intervention: 48th Eastercon '97, Liverpool
Evolution: 47th Eastercon '96, Heathrow
Intersection: 53rd Worldcon '95, Glasgow
Sou'Wester: 45th Eastercon '94, Liverpool
Illumination: Eastercon '92, Blackpool
Albacon '91 , Glasgow
Eastcon: 42nd Eastercon '90 , Liverpool
Conspiracy: 45th Worldcon '87 , Brighton
Albacon '85 , Glasgow
Seacon: 35th Eastercon '84, Brighton
Does anybody know if Harlan Ellison will include Alexi Panshin's essay on Heinlein's views on gun control in The Last Dangerous Visions?
-- Michael F. Stemper, 1999
(contributed to a discussion of the ultimate rasfw troll)
I'd just like to say how charming I find it to see a serious and passionately felt discussion of Romeo and Juliet on rec.arts.sf.written under the thread title 'sex and violence'. It really makes my day.
-- Jo Walton
in more depth...