Review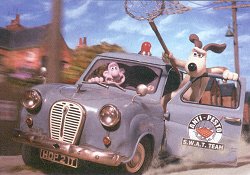 Nick Park and Aardman Animation have brilliantly taken their short, small screen surreality of cheese-loving Wallace and his long-suffering dog Gromit to the big screen.
Wallace and Gromit run Anti-Pesto, an emergency response service trapping the rabbits endangering their neighbours' prize-winning vegetables. But what to do with all the captured bunnies? Wallace hits on a great idea: use one of his inventions down in the basement to brainwash the creatures into disliking carrots, lettuces and the rest. But something, of course, goes wrong...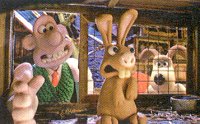 We didn't manage to get round to seeing this at the cinema over the Christmas break, despite it being on our to-do list. But the DVD is now out, and we laughed ourselves silly through 80 minutes of surreality, homages, and wickedly funny one-liners. Overt references to Thunderbirds, King Kong, American Werewolf in London, Frankenstein, WWI flying aces, and many more, keep the laughter going. And there are so many marvellous sight gags that sometimes it's hard to keep up (for example, check out the "may contain nuts" sticker towards the end). Cracking fun, indeed.