2003 / cinema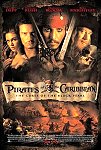 The Curse of the Black Pearl
The film of the theme park ride.
Rating: 3.5
[ unmissable | great stuff |
worth watching
| mind candy | waste of time | unfinishable ]
2006 / TV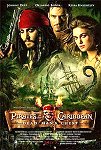 Dead Man's Chest
The sequel to the film of the theme park ride.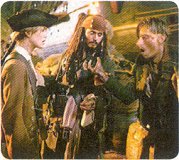 Elizabeth Swann [Keira Knightley] and Will Turner [Orlando Bloom] and are arrested for helping Captain Jack Sparrow [Johnny Depp] escape execution, and themselves condemned to hang. Turner is temporarily freed, to bring back Jack Sparrow's magic compass, with a promise of a pardon if he succeeds. Meanwhile, Sparrow himself is having problems, as Davy Jones [Bill Nighy, or possibly Cthulhu] wants his soul in payment of his debt for raising the Black Pearl . A mixture of dark and hilarious mayhem ensues.
The special effects are excellent, particularly the enormous Kraken that is sent to destroy ships. And effects like the giant bone cages, escaping the cannibals whilst done up as a giant shish-kebab, and the fight on the water wheel, are choreographed brilliantly. This mixes laugh-out-loud moments with some quite dark scenes aboard Davy Jones' ship The Flying Dutchman. It has been criticised for having a confusing plot (what, after Black Pearl ?!), but it's really a rather typical farce plot -- lots of people with the same or overlapping aims getting in each other's way, helping and hindering in surprising, and often funny, scenes. It does reach some depth, too, at the end when Jack accuses Elizabeth of being a pirate, and Elizabeth accuses Jack of being honourable, and how those accusations finally pan out.
Rating: 3.5
[ unmissable | great stuff |
worth watching
| mind candy | waste of time | unfinishable ]
reviewed 26 December 2008
2007 / TV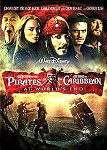 At World's End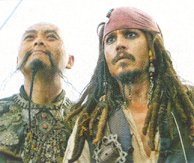 The final instalment of the Pirates trilogy sees the Eeeevil company seeking to destroy all pirates, and Elizabeth and Will attempting to unite the Pirate Lords, and rescue Jack Sparrow, in order to fight back. But everyone has their own double-crossing agendas, and can Jack be trusted?
There's lots of great ship-on-ship action scenes, with cannons, explosions, swinging through the rigging, and swordfights. But this is all rather scrappy, and with much less humour than previous instalments. Everyone gets what they deserve, and it is all wrapped up neatly at the end. Arrrr.
Rating: 4
[ unmissable | great stuff | worth watching |
mind candy
| waste of time | unfinishable ]
reviewed 26 December 2009