2007 / DVD
fantasy
elements: fairy tale; sentient stars

Stardust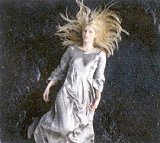 18 years earlier, Tristan's father had crossed the Wall for a day, into the magical kingdom of Stormhold, and met a captive princess. Nine months later, Tristan was born, and brought up back on the ordinary side of the Wall. He's desperately in love with Victoria, who will have nothing to do with him, until he promises to bring her back a fallen star. She agrees to wait eight days for him to return. Now it's his turn across the Wall, where he discovers that the star is in fact a woman, Yvaine (looking very Dawn Treader -esque).
Wicked witches are after her for her heart, which will give them eternal life, and the king's sons are after her for her necklace, which will give them the crown. Tristram must take Yvaine back to his side of the Wall, avoiding witches, princes, pirates, and more, before he can find his true love.
This is lovely. It's a classic fairy tale that keeps going off in unexpected directions: it's knowing, sly, and very well made. The lightening pirate captain, the dead princes' ghosts making a sarcastic chorus to the action, the witch ageing as she casts spells, and all the rest, come together in a wonderful fairy tale. It's not perfect: some of the explanation has been lost from Neil Gaiman 's original book, and some of the plot elements are obvious (but then, it is a fairy story!), but it's funny, clever, and exciting.
Rating: 3