Review

The film of the computer game. Although I've never played any of the Tomb Raider computer games, I've seen the splendid Lucozade and Kit-Kat ads, so I've a good enough idea what this is about.
Lara Croft [Angelina Jolie] belongs to the school of archeology that sneers at Indiana Jones for being so hesitant and painstaking. Her much-loved but mysterious father died years earlier, and has left her clues about an important artefact needed for a significant planetary alignment [there seems no reason he could not have arranged to warn her earlier, so she would have had more than a day or so to react, but never mind].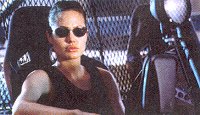 An Evil Enemy is after the same artefact, so that he can Rule the World. The race is on, guns blazing.
Lots of hilariously fun over-the-top action sequences make this laugh-out-loud enjoyable mind candy. There is a quarter-hearted attempt to provide a little characterisation, but just ignore that, sit back, set your acceptance of the ludicrous to 'high', and enjoy the cartoon-style action.