Review

I started watching this with rather low expectations -- everything with Roddenberry's name on it, other than Star Trek , has been a bit of a flop. So I was pleasantly surprised that this story of alien contact with a hidden ulterior motive is done quite well.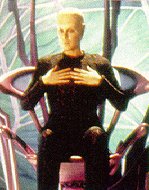 The Taelons arrived on Earth three years ago, and have helped eliminate much poverty and hunger. Selected members of their race -- Companions -- live on earth, and are aided by human agents implanted with a CVI, an alien virus that increases intelligence and has a motivational imperative to be loyal to the Taelons. But the Taelons are secretive, and not all humans are convinced of their good intentions. A Resistance sets up, and they place an agent, William Boone, with a modified CVI that has no such motivational imperative. The series follows Boone's adventures as he tries to find out what the Taelons are up to, without blowing his cover.
That the Talons do have a secret purpose becomes clearer as the season progresses, but what it is precisely remains a mystery. The uncovering of the secrets, and the story arcs, are well handled. The Taelons come across as an interestingly conflicted race, some more pro-human, and less happy with whatever it is they are up to, than others. And the Resistance is nicely complex, too -- sometimes seeming to be irrationally fanatic, sometimes seeming to be Earth's last best hope for freedom. Boone does the agonised man trapped between two worlds bit quite well.
There is thankfully very little techno-babble, although some implausible technology rears its head (yet another case of whipping up an antidote to a disease in less than an episode -- and a DNA sequence alone is not sufficient to recreate an adult person -- and if the Taelons simply monitored Boone's video phone, they'd get a nasty shock!) Yet, minor quibbles aside, this has been a fun journey.
[I understand that Season 2 might degenerate into B-movie mode a bit, but that Season 3 is back up to form. I'll have to wait and see.]