SF elements: mutant abnormals living in secrecy; vampires
2008
13 × 45 min episodes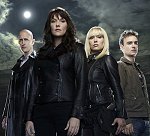 season 1 review
Dr Helen Magnus [Amanda Tapping] heads the Sanctuary, a refuge for Abnormals, creatures who aren't quite human. Magnus herself isn't quite normal, being over 150 years old, thanks to some Victorian experiments. She is aided in this enormous venture by a minuscule staff: her daughter Ashley [Emilie Ullerup], forensic psychiatrist, profiler and possibly psychic Dr Will Zimmerman [Robin Dunne], tech guy Henry [Ryan Robbins] and factotum Bigfoot [Christopher Heyerdahl]. Other recurring characters include Ashley's father John Druitt [also Christopher Heyerdahl], and vampire (yes, really!) Nikola Tesla [Jonathon Young].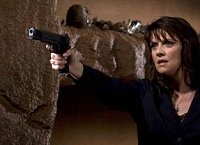 In the usual way, we have the "monster of the week" episodes. But there is also a lot of continuity and backstory, including the others who knew Magnus previously, and yet are still around. And there is also the obligatory sinister conspiracy, the Cabal, out to destroy, or exploit, all Abnormals. Much of the scenery is CGI allowing for some spectacular Gothic sets, which the cast spend a lot of time walking around. There is enough action to compensate: although Magnus spends most of the time being deadly reasonable, she spends the rest just being deadly.
It's mind candy, but fun mind candy. We end with a massive end-of-season cliffhanger. So I'm pleased there is to be another season!
Rating: 4
[ unmissable | great stuff | worth watching | mind candy | waste of time | unfinishable ]
reviewed 6 January 2009
2009
13 × 45 min episodes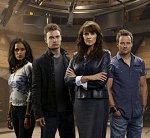 season 2
!!! SPOILERS FOR SEASON 1 !!!
The massive end-of-season-1 cliffhanger gets resolved in a way I wasn't expecting: it's not usual to kill off a major character in that way (nor, for an SFnal series, for them to stay dead!)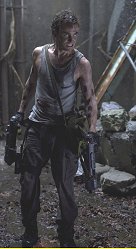 The second season has also taken this opportunity for the evil conspiracy plot arc to be terminated. Good – I find conspiracy plot arcs often result in unimaginative episodes (except for Alias, of course, which managed to keep the conspiracy theme at a suitably bonkers high level all the way through).
To replace the killed cast member, we get new-bad-girl-turned-good Faith Kate. And we get a season of relatively individual episodes, allowing quite a wide range of tone, and some more background of the Sanctuary (it's becoming clear that the Sanctuary itself is actually a shadowy worldwide conspiracy, but that's okay, because it's on the side of good. Isn't it?). Some episodes are funny (Next Tuesday, but not really Hero), some traumatic (Night of the Living Dead Pavor Nocturnus, and Penance), some contrasting the current kissy-vampire meme with good old fashioned proper vampires (Sleepers). And we get hints that the Sanctuary network is larger than we thought, and maybe not all its members are that keen on Magnus (Veritas, leading up to the even more massive Bollywood end-of-season-2 cliffhanger, Kali).
Rating: 4
[ unmissable | great stuff | worth watching | mind candy | waste of time | unfinishable ]
reviewed 23 January 2010
2010
20 × 45 min episodes

season 3
The massive end-of-season-2 cliffhanger gets resolved in a much more standard handling-of-the-death-of-a-major-character SFnal manner. We have a major arc this season, about the Hollow Earth source of the Abnormals, and introducing the character of Jekyll and Hyde (well, we already have Jack the Ripper, vampire Nikola Tesla, and Dr John Watson, all as members of Magnus' League of Extraordinary Nutters, so, hey). Interwoven in the main arc are some minor arcs and strong stand-alone episodes, adding to the richness of the season. The series remembers it has a history, and interweaves past events in some unexpected and clever ways (although you would think that by now Magnus et al might have some worry that waking an ancient vampire queen might not be that good an idea). And there's a new massive end-of-season cliffhanger...
Rating: 3.5
[ unmissable | great stuff | worth watching | mind candy | waste of time | unfinishable ]
reviewed 31 March 2012
2011
13 × 45 min episodes

season 4
The massive end-of-season cliffhanger, with Magnus stranded 113 years in the past, gets resolved in a couple of episodes, and she is forced to take the long way home. Meanwhile the Abnormal invasion has spooked the leaders of the real world, and they decide that the Sanctuary should be closed down. Magnus has to pull a rabbit out of a hat to save the place, involving some Die Hard-like antics on a tropical Island (Monsoon). There are a few stand-alone episodes of the crew off to gather Abnormals, and, as usual, finding they may have bitten off more than they can chew. But the whole season builds up to a climax of Abnormals v the Sanctuary v the Rest of the World, resulting in a final colossal showdown where it doesn't appear that Magnus can win. But she, of course, has a trick up her sleeve...
This doesn't end on a cliffhanger, but on a note that promises more stories to be told. Unfortunately, the series has not been renewed for a fifth season. But is was good fun while it lasted.
Rating: 3.5
[ unmissable | great stuff | worth watching | mind candy | waste of time | unfinishable ]
reviewed29 December 2012