Illumination: Eastercon '92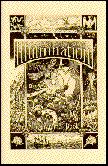 The 1992 British National Science Fiction Convention
17-20 April 1992, Norbreck Castle Hotel, Blackpool
---
GoHs: Geoff Ryman, Paul J. McAuley , (fan) Pam Wells
---
The main excitement was before the con even started: the Norbeck Castle Hotel (sort of castle-shaped, in a concretey sort of way) went into voluntary receivership in February. But it was 'refinanced' successfully, and everything was okay for Easter.
---
Programme highlights
Geoff Ryman : The Wizard of Oz (including his new book, Was )
Concert: Golden Oldies of Filk
John Clute and Paul Barnett (aka John Grant): The Clute Encyclopedia. A talk on the current status of The Encyclopedia of Science Fiction --- including the promise of a CD-ROM version.
Paul McAuley : GoH interview.
Firework display. 'Illumination' lives up to its name.
Jack Cohen , James White and Dougal Dixon : Build an Alien .
James Steel : SimEarth . An interactive attempt to create intelligent life, with the audience shouting advice: "Nuke the Crabs!"
Colin Jack : Travails of a Mad Inventor . Some of his, and other, inventions that could work --- power generation and weather control over the North Sea, anyone?
Panel: Build Your Own Religion . Nothing that new; mainly a fun fight between the Christians and the Pagans.
Martyn Fogg : Terraforming Mars . It takes a long time --- hundreds of thousands of years.