Sou'Wester: Eastercon '94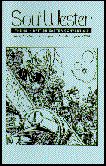 The 1994 British National Science Fiction Convention
1-4 April 1994, Adelphi Hotel, Liverpool
---
GoHs: Barbara Hambly , Neil Gaiman , Diane Duane , Peter Morwood
Deadlines are little cowards: they never travel singly.
--- Neil Gaiman, GoH speech
---
My second con at the Adelphi Hotel, which remains a magnificent building, but was much easier to find the second time.
---
Programme highlights
Panel: Thog v. the Zeitgeist
Barbara Hambly : GoH talk
Wobblies on the Moon : the Radio Play
Diane Duane and Peter Morwood : GoH Desert Island Discs --- eclectic
John Adams : Transport Planning as Science Fiction
Joanne Ashall : Magnetic Fusion --- the current State of the Art, and it's not cold!
---
Julian Headlong: Pathological Science
Some of the more extreme examples of science gong off the rails: N-rays R Us.
You can have technology without science --- it would be possible to do everything by trial and error.
You can't have science without technology. You need the technology to build better and better instruments to do the finer and finer measurements necessary to check scientific theories against the real world.
---
Panel: Thog v. the Zeitgeist
Social and political concerns misapplied to Fantasy and SF: medieval feminists, and far-future killers with a conscience.
SF is about change and progress .
Fantasy is about return , about repairing undesired change.
---
Jack Cohen: Sex, Complex and Multiplex
Jack Cohen investigates some of the odd sexual arrangements in SF.
On the future evolution of the human species: "I believe we are already lots of different species -- which means we can do interesting things together. We are at the stage of using 'groups' of people -- the same way groups of bacteria formed the eukaryotes."