Novacon 30
10-12 November 2000, Britannia Hotel, Birmingham

---
GoHs: Christopher Priest , (special guest) Rog Peyton, (artist) David A. Hardy
---
Programme
---
Rog Peyton: Special Guest interview
The early days of selling SF
Andromeda Bookshop may have to close next year: a big development is resulting in increased rents.
On auctioneering: "Who'll given me 2p for this 1p? Okay, now who'll give me 5p for this 2p? Got up to £20! People are very generous when it's for charity.
---
Panel -- What's Hot and What's Not
Del Cotter, Chris O'Shea, Yvonne Rowse, Jennifer Swift, Paul Kincaid
Each panelist names one book you absolutely must read -- and one to avoid like the plague
CO'S: hot: Neal Stephenson's Cryptomonicon -- I got to page 350 and thought "it's great, and there's still two thirds to go!" Nice characterisation, and a good blending of the 1940s and the modern stories.
JS: It's everything an SF fan wants to read about, without technically being SF.
CO'S: if it's SF, then so is Personal Computer World !
YR: hot: Lois McMaster Bujold's A Civil Campaign -- Actually, most of what I've been reading are old books, in the Yellow Gollancz and Masterworks series. The Vorkosigan series is "soppy romance marketed as military SF". I reread ACC for the panel, yet still had to stay up til 3am to finish it. Oh, and the cover is fiction, okay?
DC: it's SF all the way through, especially the reproductive technology, and the butterbugs.
YR: I found the dinner scene appalling -- I could imagine it actually happening, so it wasn't funny for me. The characters are great.
CO'S: It's Dawsons Creek with spaceships. But the characters are not "reset" at the end of each book.
JS: hot: Philip Pullman's The Amber Spyglass [The long awaited 3rd book in His Dark Materials trilogy, marketed as a juvenile] -- it's so hot it [the hardback] doesn't even have the title on the front cover! It's metaphysical SF, and a very exciting adventure story, but not just relentless action. It has a variety of interests, settings and characters. It has great imaginary creatures, artifacts and races. It's a rewrite of Paradise Lost where the Devil wins because he's the good guy. The last third is a bit of a disappointment, because it gets preachy, loses its hard edge, and gets soft.
Farah: I found it a bit preachy all the way through -- the best reason to buy it is to knock Harry Potter off number 1. I got fed up with being preached at about how important the little girl is, yet she does nothing -- but it is very inventive
All that physics in the 3rd book -- how did he get that in without someone saying "too complicated"? The first 2 books are also many-layered.
YR: I'm tempted to recommend Ann Halam's Don't Open Your Eyes -- it's stunningly good. But it ought to be an adult book, despite the teenage protagonists. Death is too "real" in this book.
DC: hot: Jo Walton's The King's Peace -- it's about British mythology, set in a country "the same shape as Britain". It's the story of Arthur six centuries after the Romans leave. It has Arthur and Mordred -- it also has someone we don't recognise -- Sulien -- and there's magic. It's a first novel, and the first couple of chapters are a bit uneven, but it soon really takes off. There is to be a sequel, but it's not going to be a trilogy, which is great, because I hate middle books.
PK: hot: Mark Z Danielewski's House of Leaves -- the story of a filmmaker who makes a documentary of his family life, and strange things start happening. There is a corridor in a wardrobe, the house is a quarter of an inch wider inside than out, a doorway in the lounge leads to miles of blank corridors. The book is an essay about the film, plus editorial comments by a drug addict who found the script. It has many levels. Concrete: one chapter is about a maze, and the text takes the pattern of the maze. 700 pages -- and the only novel with a full and proper index!
PK: hot: John Crowley's Dæmonomania -- sequel to Ægypt , and Love and Sleep -- the third of a series of 4, but it concludes the story. Crowley can present two sides of an argument, and convince you of each side as he presents it. It is beautifully written.
CO'S: not: series books . Some, like Terry Pratchett and Robert Rankin, can churn out books in a style, where each book is different, and each particular joke is funny -- they can keep up the quality. But some series, like those of Alan Dean Foster and Piers Anthony, just get worse and worse.
YR: I don't ever get rid of books -- I still have Tides of Lust -- but I took Piers Anthony to Oxfam.
PK: Some publishers keep sending me books, especially Pier Anthony's -- every 2 or 3 months another PA hardback appears. Also, there's a problem with L Ron's magnum opus -- they float! It's not that easy to get rid of bad books.
YR: not: Jack McDevitt's Slow Lightning . I've reached that age where I don't see any point in reading books that are crap. This was the only reading matter I had on a plane, so I read it. I got it as a review copy, and it was worth every penny. It's not badly written, and it has lots of good ideas. But the main character is vile and stupid and idiotic and out to destroy the whole world out of personal stupidity. I thought "nobody this stupid could survive" -- then I read Dynasty , the story of the Stuart kings, and they were as stupid -- but much more likeable. It's not badly written, but it's a book you would only read on a long-haul flight.
"It's a book you would stand on to reach other books."
DC: Yes, I don't like to read crap any more. I read Eddings' Belgariad -- why did he write it twice? "Only the names have been changed, to protect the unimaginative."
PK: I hate it if I have to review a bad book -- I feel duty bound to read it all.
JS: not: Doris Lessing's Shikasta and the rest of the series -- how could such a talented writer write such bad books? The basic idea of the whole series: violence and depravity exists because we are out of touch with cosmic powers -- good aliens intervene, to help -- bad aliens also intervene. Lessing seemed to think this was an original SF idea. Also, there is no continuous story, just a heap of fragments. Lessing has a talent for getting into the minds of her characters, but not for creating anything new and fantastic.
DC: not: Steven Baxter's Mammoth -- Watership Down with mammoths. It's just not very good. If it didn't have mammoth sex, it might be suitable for children -- it's written in a very childish manner. It's not mythic. In the end the mammoths take flight in spaceships and settle a terraformed Mars!
Books of courage for any age let people die. Baxter can't let anyone die. He even has to save the mammoths in the end!
PK: Baxter has a problem with characters. When that's a 500 foot spaceship, it's not a real problem. But when it's humans in mammoth skins -- it doesn't work. I couldn't distinguish any of the names. I couldn't believe anything like this could ever have lived.
PK: not: Joe Haldeman's Forever Free -- The Forever War is a fairly decent anti-Vietnam war novel disguised as SF -- Forever Peace is wooly liberal anti-corporation, but nice enough. Forever Free is a direct sequel to The Forever War -- I'm okay with a deus ex machina , but when characters are talking to actual God on Earth at the end, it doesn't work. He's not very good at characterising God. I kept reading because I couldn't believe it would get worse. I kept waiting for a saving twist. But each revelation does get worse.
I found it curiously morally old fashioned. In the 60s and 70s he was a liberal -- did he get Heinlein 's brain transplanted? This is structured around the virtues of Individuality, and Family Life -- but individuality nearly kills him, and the family life is dire. I kept waiting for it to become ironic -- but it didn't!
Straw poll of the audience -- the good books, many other people had read -- the bad books few others had read. This is a Good Thing.
PK: some of the good books are by first authors -- all of the bad books are by established writers.
---
Christopher Priest: GoH talk
(I missed the first part of this)
There's a dumbing down of my titles in US editions:

Feud for a Darkening Isle --> Darkening Isle
Inverted World --> The Inverted World
A Dream of Wessex --> The Perfect Lover

Then came The Affirmation -- I was asked for suggestions. "How about Yes ?" They went away for a while, then came back and said "it wouldn't work". " No ?" "But that wouldn't mean 'yes', would it?" In the end, it stayed The Affirmation . Then The Glamour even managed to keep its 'u'. I decided simple declarative titles work better in the US.
The writing process is constantly being interrupted. That's a good thing, because books are read with constant interruptions.
The best distractors are publishers. An editor once nagged me to death to reduce a book by 30,000 words, for economic reasons. She never used the one argument that would have worked -- that it would have made the book better, more interesting. She admitted it was artistically the right length. Instead she kept on about the price, of ink, of paper, even of glue. I resisted. She even questions the dedication To H.G. Wells . "Didn't you realise he's dead ? You have to say To the memory of ..." [I was surprised Priest didn't use the come-back "but that would use more ink, and so cost more!"]
Each book takes a simple, even cliched, theme, and treats it differently

The Affirmation -- immortality
The Glamour -- invisibility
The Quiet Woman -- political satire
The Prestige -- matter transmitter
The Extreme -- VR
The Separate -- alternate histories

All previous definitions of SF have been descriptive, an attempt to sum up the genre. My definition is pre scriptive, a manifesto: "SF is the literature of visionary realism"

visionary -- unfettered imagination, obsessive, challenging
realism -- the form is a real-seeming, literate, not obscure, good story, with plausible characters

This gets rid of rubbish, media, spoofs, most of fantasy, and all "sci-fi". It includes all the good stuff.
Whenever a publisher gives a literary response to a book, maybe that it starts too slowly, or has a poor character, it can often be improved in that area.
There are always two levels: what's going on in the story, and the fact that you are sitting reading these words on paper.
The Internet will have a big impact on books. Anyone will be able to "publish" their novel. For the writer, this will be great, even if no-one ever reads it. A democracy of literature. Also, there can be a net-base dialogue discussing the literature. And it will be easier to get hold of the obscure stuff: will still find the first piece by serendipity, but then easier to find more.
The Internet makes more niches for literature. It will speciate into microcosms, each with relatively few people.
---
Debate -- The role of SF conventions
Eastercons no longer have competing bids -- some barely scrape a bid at all. Have conventions had their day?
There was no bid for the 2003 Eastercon, and no real contests over the past few years.
Novacon is not attracting new people, despite being quite vibrant. [Hey, it was my first Novacon!]
People want to attend cons, but membership has plateaued. Are new, younger people coming in? Straw poll -- about half the room was under 35. [Is that really fandom's definition of 'young'?]
CUSFS (Cambridge University Science Fiction Society) usually gets 5-10 members to each Eastercon -- but they tend not be students. You need money for travel/hotel bill, etc
University SF societies used to be a serious route into fandom, but most are now moribund.
Societies run by volunteers are dying everywhere. From SF, to horticulture, to charities.
There are nowadays many more potential opportunities, including ones in SF fandom: media, anime, gaming, etc. In media fandom, the audience is a lot more passive, and some are commercially run.
Last year alone there were 5 academic conferences on SF in the UK.
Many young fans are disapproved of, because they behave like young fans -- drink, throw up, be obnoxious, etc. Are we being hypocritical?
Conventions used to be the way into SF. This is no longer necessary -- SF is now mainstream. And they used to be the main source of fannish conversation -- but you can now get that on the net all the time.
Philip Pullman was on Start the Week -- maybe we've won the war? Well, almost -- they were a wee bit sniffy.
Maybe the problem is the Eastercon? Is it too big, too much commitment to run? And there are too few different venues that can host it. The Adelphi is close to the limit. If there's enough function space, often the hotel is then too big, and there are other guests, too. Or it's too expensive.
But there are things you can do at an Eastercon with its bigger budget. And the diversity of people is part of the fun. And it acts as an "ecological corridor", linking the smaller diverse conventions together.
Room rates are going up. There are no longer any large shabby hotels that need our business. Large Victorian city centre hotels, suitable for Eastercons, are now premium hotels. Fans don't like ring-road plastic hotels.
25 years ago, 1000 people needed 300 bed spaces. Now it's more like 800 bed spaces -- we are no longer sleeping on the floor!
Fans also get fed up with the same site. So, although the Adelphi is a good site, fans are bored with it -- they already know all the good restaurants.
---
Panel -- Judging a book by its cover
Brian Amerigen, Dave Hardy, Rog Peyton, Julian Headlong
What makes us pick up a book in the first place -- title, author cover art, blurb, quotes, reviews?
DH: if I'm doing cover art, I do like to read the book first, to get an idea of characters, vehicles,... Sometimes I'm given only a short blurb -- then I do a composite, non-specific picture.
BA: Mary Gentle is peeved at the cover of Ash , a character with ash-blond hair, depicted with red hair.
RP: Most specialist customers know what they want. If it's piled high, they will notice it. Last year, there was a double issue of The Time Machine and War of the Worlds with a picture of Big Ben and a Martian -- a great depiction of both themes.
Josh Kirby started in 1953 doing James Bond covers.
BA: the words on the spine catch your eye first. Or the yellow jacket -- but that needs a sophisticated reader.
RP: I've never bought a Gollancz book, I've never liked them. Also, cover art work attracts me.
Josh Kirby is branding "funny SF". Tom Holt objects to JK covers, because he doesn't want this brand.
DH: publisher often still don't credit the cover artist who is selling their work.
Modern artists use computers. But older artists used the available tech: pinholes, projectors, photos, ...
Good covers can be used on several books
There was lots of red in the past, because that red didn't fade, whereas blue faded in days. How come present day reds fade?
Joan Vinge's The Snow Queen carried a cover quote by Arthur C Clarke -- "it has the weight and texture of Dune ". What does that mean: that it's thick and made of paper?
One blurb said something like "he was taunted by her sexy wiles" -- the book was 1984 !
BA: Some publishers' blurbs are crass, ungrammatical, and self-contradictory.
"I bought this book despite the cover!"
Kim Stanley Robinson's Mars trilogy have good wraparounds, a uniform design, and all three together form a single picture.
It's annoying when publishers change a logo or style in a series. Philip Pullman's trilogy: the first and second were UK first editions, the third is a US first edition -- so can't have a uniform series of first editions.
A problem with a uniform series image -- you may not notice a new title.
Shelving matters: face front books sell better than spine front.
Embossing is getting more popular. As are holes in dust jackets -- but these tend to tear.
The Harry Potter series is also available with an "adult" cover -- which costs more!
Some books are published with six different covers.
---
Panel -- Yesterday's tomorrows
Claire Brialey, Kev McVeigh, Farah Mendlesohn
The panelists choose their favourite fictional tomorrow -- and say whether they want to live in it
The book and art auction overran -- surprise -- so this panel was held in the bar, with the audience snuggled up to hear the unamplified panel -- very cosy.
Ian McDonald's Necroville -- nanotech immortality by resurrection, which leads to a teenage culture
Kim Stanley Robinson's Pacific Edge
Samuel R Delany's Triton -- a statist anarchy utopia, where you are allowed to be miserable if you want to
Necroville : the dead do the grotty jobs -- indentured to the resurrectors. Indenturing can be a form of mortgage/apprenticeship -- a route to social mobility that takes you out of your class (and necessarily out of your society of friends and family) -- it doesn't need to be slavery. The resurrection starts a completely new life -- it doesn't continue the old one.
How to get from here to the world in Triton ? We confuse privacy with aloneness.
Our society can't seem to move beyond conventional family structures. Triton is based around a close circle of friends. But we have friends only until the get married, change jobs, etc.
We need a culture that values friends. (The change to the UK mortgage tax relief laws in the late 80s -- so that only one person rather than all co-owners got tax relief -- removed an incentive for friends to live together in a shared house.) We need to remove kinship and sex from the idea of family.
The protagonist Sam has three homes: weekend, family, girlfriend.
Parenthood is a very important relationship. But two-parent families are depicted as highly dysfunctional. It's either one parent supported by a commune, or multi-parent.
In Triton , there are loads of relationships, and lots of renegotiation. Permanent marriage is illegal. This requires a great deal of honesty, especially to oneself.
In today's Britain, it is regarded as more scandalous to have an open relationship with a person one's spouse approves of, than to deceive/betray that spouse.
Pacific Edge is a very rural utopia. People can walk away. That needs space -- which is available between settlements, if not within them -- the plot revolves around planning permission for the last piece of land.
It seems to be compulsory to play baseball! But it's just a metaphor for teams/community, etc
Also, the main character cheats, undermining the entire planning process.
London's Docklands at night look like the SFnal future.
None of the panelists have gone for primitivism -- all the chosen futures are high tech. Communitarianism lightens primitive drudgery -- when the Shakers were the only ones with washing machines, they recruited huge numbers of women. When we can live alone with no drudgery, we choose to live alone.
Triton is fairly egalitarian, but there is still a rich/poor gap.
There is Welfare -- nearly everyone is on it at some stage -- no-one is on it too long -- evens out the gap.
The Triton protagonist does good manners for social status, not to be nice to people.
Ken MacLeod's The Sky Road is not a good utopia -- it's smug and self-satisfied, mostly homogenised, with a marginalised class -- sounds like a recipe for a pogrom.
A usual utopian mistake: that is you have like-minded people you will want to be with all of them all of the time.
---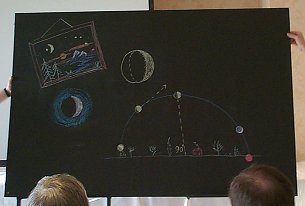 Dave Hardy -- GoH live painting
Lots of things can be wrong in Space Art -- a star in the crescent moon, a moon bigger than the sun, dark side of moon darker than (intervening) sky, wrong phases, etc.
It's easy to remember which crescent is new -- add a vertical to a ) to get a p, French p remier, first -- and which is old -- add a vertical to a ( to get a d, French d ernier, last.
It's Dave Hardy, or David A Hardy -- never David Hardy. "Arthur only got a C, at least I got an A"
In the 50s and 60s, calculated loads of planetary sizes/distances, etc -- still uses them
Dave's Rolf Harris impersonation -- an animated painting of a view of Neptune from Triton. What seemed like a fairly simple spray-paint and chalk drawing yielded an amazingly effective result. Rog Peyton leapt up and auctioned it. We all wanted to bid -- but we couldn't work out how to transport it. Then we discovered the ecstatic purchaser had no idea how he was going to transport it -- to Maryland!
---
Panel -- The future of SF
Andrew Butler, Steve Jeffery, John Meaney, Christopher Priest, Caroline Mullan
At the dawn of a new century, does SF have a future, and what shape might it take?
When talking about commercial SF, it depends on what we mean by SF. For books with SF on the over, the position is fairly secure. It's an established part of publishing. 10% of all fiction sold is SF ("and 90% of that is Terry Pratchett!")
Last year, 1999, books sold over the counter increased by 10% -- books as physical objects are still selling.
When SF tries to broaden it's appeal to a wider audience, from our perspective it gets diluted.
Ebooks are going to happen. Barnes & Noble are selling them. MS-Reader is free to download (MS gets a share of each ebook sold). SF is probably the major product for ebook readers. "I spend my day looking into a glass tank. When I get home I want a book on paper!"
There have been lots of classic SF reprint lines this last year.
Originally, the publishing world didn't know about SF, so "non-commercial" writers could get published -- Dick, Sladek, Ballard, ... It's getting harder to take on "difficult" writers.
For people who don't read SF, they think a movie like The Matrix raises deep questions about the nature of reality, even though the rest of us think it's facile.
At the turn of the century, there was an SF book that had some technology to automatically raise a hat -- it was set in 1980, but was obviously about the mores of its own time.
How is literature adapting to SF? Margaret Atwood's The Handmaid's Tale -- she didn't appreciate getting an SF award. Also, she's won the Booker Prize, for The Blind Assassin , a novel that contains extracts of the SF novel being written by one of the characters.
Chris Priest won the 1995 James Tait Black Memorial Prize for fiction for The Prestige . Was asked if he would like to know why he won. A judge said "I read The Affirmation in 1980, then you disappeared. I thought you were dead!" (No, being published by Faber, which is the same thing.) "Then I saw your new one, and decided then that it would win."
"Safety first" is a silly idea. Driving, cycling, we'd never do anything. It should be "safety second" -- after whatever it is we are actually doing. Similarly, with SF, it should be "science second", and literary things first. In SF, we tend to tar with the "literary" brush.
Geoff Ryman, Kim Newman, and others have been moved from SF to mainstream -- mainly due to celebrity.
Meaney: There is no separate SF imprint with my publisher. There is nothing on the cover that says SF -- except the Jim Burns artwork, of course.
There is no limit to the prejudice the literary world has against SF. We need another manifesto like Joanna Russ', called "How to Suppress SF writing"
Joanna Russ' 1972 essay "The Wearing Out of Genre Materials". It would be very difficult now to write a spaceship story without invoking all the Star Trek and Star Wars resonances. "When I started SF, I didn't know what an alien was, now they are everywhere." In the 50s, we looked at Buck Rogers and said, SF isn't about that . What will the world pretend we are in 30 years time, so they can despise us then?
The Crime genre has a limited number of concepts -- it should have died ages ago, but it's still going on -- there is some spill into mainstream. John Sandford -- his main character, Lucas Davenport, is a hard bitten cop who writes Role Playing Games in his spare time -- yet these books are classed as mainstream.
There is still plenty of SF being published in the classic mould.
The panel was beginning to wind up -- when the fire alarm went. We all evacuated in an orderly manner from the 9th floor programme room. Fire engines arrived -- but fortunately it was just "a fault on the panel" (the fire panel, not the con panel!)