Intersection: Worldcon '95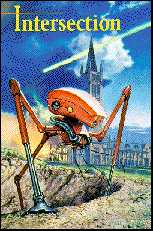 53rd World Science Fiction Convention
24 - 28 August 1995, Scottish Exhibition Centre, Glasgow
---
GoHs: Samuel R. Delany , Gerry Anderson, (fan) Vin¢ Clarke, (filk) Bob Kanefsky
---
My second Worldcon. The large rooms at the SEC were fine, except for the one 'partitioned' into four smaller 'rooms', said partitioning wonderfully focusing the sound from each roomlet into the other three, allowing all four programme items to be experienced simultaneously.
Sadly, Jon Brunner died while attending the Con.
---
Programme highlights
(Nothing from the first day, since I was flat out with food poisoning -- not caused by Con food, I hasten to add):
Panel: Women in Uniform . What it is like to be a woman writing hard/military SF. -- "It's difficult to admit that war can be fun."
Panel: The Spaceship and the Bilges . Should fictional spaceships 'work', right down to the plumbing?
Panel: The Most Alien Alien . How writers evoke a genuine sense of otherness in their aliens.
Panel: The Hero in Spite of Himself . Why heroes are not as heroic as they used to be.
" Dune, or the Sand of Music ". An Ian Sorensen musical extravaganza. "You'll believe a sandworm can surf." (A video is available!)
Panel: You're the Aliens
Panel: My Hovercraft is Full of Eels . The problems of translating SF.
Panel: Pass Me the Deus ex Machina . The best and worst cop-outs and plot twists.
Panel: The Hero's Journey
Panel: The Bugs Bite Back . Ebola, TB... Bugs are evolving resistance to antibiotics.
---
Panel: Negative Matter Supported Wormholes
John Cramer , Geoffrey Landis, Greg Benford and Bob Forward on their recent joint physics paper.
Wormholes can be stabilised by negative mass:

The Casimir effect is an attractive force between two metal plates in a vacuum, because the plates halve the number of virtual photon modes. This looks like negative energy, hence negative mass.
Or use negative mass cosmic strings

A wormhole can have a sphere at each end: 'two spheres of the same diameter, each of which encloses the other'
Push a positive charge through a wormhole: the electromagnetic field lines are not cut, so the wormhole appears to keep the +ve charge at its entry mouth, and have a -ve charge at its exit. This build-up of +ve charge repels more charge.
Push a positive mass through a wormhole: the gravitational field lines are not cut, so the wormhole appears to keep the +ve mass at its entry mouth, and have a -ve mass at its exit. This build-up of +ve mass attract more mass.
---
Jack Cohen: Redesigning the Human Body for Fun and Fornication
If it weren't like this, how would it be?
A typical Jack Cohen talk, heavily illustrated with slides of cartoons and photographs:
Universals and parochials. If something has evolved on earth more than once (flight, eyes, etc) it is a universal, and so aliens may also evolve it. If something has evolved only once (the pentadactyl limb) it is parochial, and so aliens are unlikely to have evolved it. The universal four 'Fs': fur, photosynthesis, flight, mating.
We don't understand fertilisation. Just because we can do something, doesn't mean we understand it. We have many new ways of making babies (surrogacy, AID, etc.), but we don't understand fertilisation. Human reproduction and hormone cycles are very complex. If we want to change these, we need to understand how it all works. (Human male and female hormones are not 'opposites', they do not 'cancel out', they are different.)
Rituals. Reproduction and sexuality are too highly charged for rational judgements. Humans cloak them in rituals, like puberty rites and wedding ceremonies. Animals also have mating rituals: behaviour during sex is very different from most survival behaviour, so those instincts need to be overcome.
Range of sexual behaviour in animals. Amazing photographs of porcupines, damsel flies, butterflies, rhinoceros ...
Varieties of sex in humans. We are all different from each other, by about 10% of our genes. We are not like Model-T Fords with just some different gadgets, we are more like hand-crafted cars, each individually adjusted to give the 'same' result. Our small external difference hide much bigger internal differences. Compared to these differences, the difference between female and male are slight: the developmental trajectories are very close. Nearly all attempts to alter the trajectory result in something nasty.
Changing our minds. If we want to change, more than altering our bodies, we need first to alter our minds.
---
The Transactional Interpretation of QM, as recently published in Rev.Mod.Phys.
Consider a photon emitted by a galaxy a billion years ago, now caught on a photographic plate on Earth. The Copenhagen Interpretation has a wave front spread over a billion-light-year sphere instantly collapsing to a point. Everett's Many-Worlds Interpretation has many parallel universes, some where the photon hits different plates at different times, some where it is never absorbed. The Transactional Interpretation considers both the retarded and advanced waves, constructively interfering with each other along the path between the emitter and absorber.
(Heisenberg's wave equation has two solutions, psi, and psi-star. Psi, the retarded wave, which travels forwards in time, is standard solution. Psi-star, the advanced wave, which travels backwards in time, is usually discarded as non-physical.)
CI requires swallowing instant collapse of wavefunctions, hence faster than light travel; Many Worlds requires swallowing prodigious replication; TI requires swallowing time travel.
CI, Many-Worlds, and TI are all interpretations of the same mathematics. So they have no different predictions or observable consequences. (The Transactional Interpretation might require an open universe to explain the arrow of time, to cater for 'non-observed' events of particles that are never absorbed.) Weinberg's attempt to add a small non-linear component (for which there is no evidence) would distinguish them: Everett can use it to communicate between parallel worlds; TI can use it to communicate backwards in time.
Ptolomey had the Earth at the centre of the Universe, and everything rotating around it. The Copenhagen Interpretation has the observer at the centre of the Universe, and everything collapsing around it: "The Collapsor of Wavefunctions".
Greg Bear