Review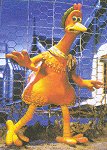 Nick Park and Aardman Animation have brilliantly managed the transition from their small screen successes of Creature Comforts and Wallace and Gromit to the big screen with their animated plasticene chickens.
Ginger, visionary, yearns for her freedom, and that of all the other chickens, from their life of egg-laying captivity. She constantly plans ingenious escapes, which, due to her insistence that they all get free, are constantly thwarted by the farmer and his dogs.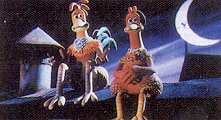 Then, one evening, Rocky Rhodes, flying rooster, crashes into the farm. Here is their chance -- Rocky can teach them to fly! But time is growing dangerously short, and Rocky has a terrible secret...
This is wonderful -- chock full of glorious jokes, characters, bizarre machines, sly references to The Great Escape and Star Trek , and loads more gorgeous details.