Review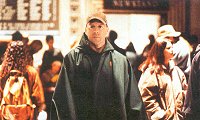 Like the earlier film from director M Night Shyamalan, The Sixth Sense , this is very slow and measured, with an almost motionless performance by Bruce Willis. Here he plays David Dunn, sole survivor of an horrific train crash. Not only sole survivor, but completely unscathed. He is contacted by comic book aficionado and fragile-boned Elijah Price [Samuel L Jackson], who claims he is an "unbreakable", and should use his powers. The film is essentially about how Dunn slowly,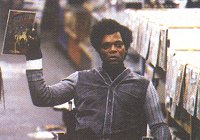 oh so very slowly, comes to believe Price.
There are some good set pieces. And like The Sixth Sense , there is a marvelous twist in the tail, which I again didn't see coming, although in hindsight it was telegraphed throughout the film -- the best kind of twist! But here the slow pace tends rather more to the catatonic than to the dreamy. So, worth watching, but not quite as good as its predecessor.