Battlestar Galactica : reviews
SF elements: plucky human resistance against robot uprising
2003
3 hour episode

mini-series review
Humans made the intelligent Cylon robots to help out in the colonies. 40 years ago, the Cylons rebelled, and a war was fought. Now, with the threat almost forgotten, the Cylons are back, this time in human form. They nuke the colonies, and only 50,000 people, and one Battlestar, remain, desperately fleeing for survival.
Saying that this is much better than the kitsch original would be merely damning with faint praise. This is a full "reimagining", with only the underlying premis and character names remaining, and nearly everything else changed, for the better. Considered on its own merits, it's good: gritty, well-paced, and with some interesting moral ambiguities.
Rating : 3
[ unmissable | great stuff | worth watching | mind candy | waste of time | unfinishable ]
reviewed 28 December 2005
2004/05
13 x 45 minute episodes

season 1 review
The world is over. The fight is just beginning.
The mini-series gave us the background of the Cylon attack; season 1 takes over, showing us the aftermath, as the survivors struggle to survive follow-up attacks, to keep the fleet together, and to keep democracy in place.
Is this really science fiction? Sure, it's set on spaceships, with robot enemies, clones, and atomic explosions. But is that just surface gloss? Would the story be any different in structure on, say, a flotilla of boats in the Pacific, fleeing a dangerous and more powerful enemy? Hard to say. The only part that's at all fantastical is the "needlessly messianic" religious fervour of the Cylons (with some of Six's more obscure preaching irresistibly reminding me of the opaque philosophy in The Water Margin ), coupled with the President's visions fulfilling 2000 year old prophecies.
But, despite these caveats, this is good stuff. The tension and pace are relentless, and the plot can suddenly spin off in unexpected and shocking directions. The characters are interesting: they are all flawed but, for the most part, trying to do their best in unbelievably stressful circumstances. In particular, the exploration of Gaius, a deeply flawed human being, interested only in saving his own skin and reputation, constantly teetering on the brink of ruin and tragedy, who nevertheless keeps saving the day and winning respect he does not deserve, is fascinating. So I'll forgive it its lack of deep SFnal content.
Rating : 3
[ unmissable | great stuff | worth watching | mind candy | waste of time | unfinishable ]
reviewed 26 February 2006
2005/06
20 x 45 minute episodes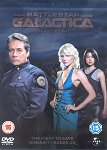 season 2 review
The fight to save humanity rages on.
I questioned whether season 1 was really science fiction: season 2 definitely is -- particularly with the resurrecting Cylon clones.
We are led on a real roller-coaster ride, from the resolution of the season 1 cliff-hanger with Commander Adama lying shot and President Roslin in the brig from a military coup, through Starbuck's capture by the Cylons, escape, and return with the Arrow of Apollo, the confirmation of various scripture prophesies, the discovery of a second surviving Battlestar and its Cylon prisoner, Roslin's impending death and cure, Sharon's baby, further revelations galore, the Cylons' retreat, to the discovery of New Caprica, and the new end-of-season cliffhanger.
All the characters are interestingly flawed: Adama seems unable to put the right person in charge of anything; Starbuck is getting more emotionally unstable; Sharon appears human except for occasional Cylon sympathies; Gaius oscillates between morality and depravity; Roslin is getting downright scary -- every time she gives that sweet little smile, she says something horrific "I don't make suggestions, Mr. Baltar. If I want to toss a baby out of an airlock, I'd say so." , or actually tosses another Cylon out the airlock.
The one thing that doesn't quite ring true for me is that the Colonists insist that the Cylons are just machines, so as prisoners can be treated badly, yet their choice of that bad treatment is predicated on the prisoners being able to suffer. (Sure, they're not human . But they are clearly sentient .) Maybe they're just in denial to justify what they're doing, but this isn't even hinted at.
Never mind -- season 2 is great -- and I'm looking forward to season 3.
Rating : 2.5
[ unmissable | great stuff | worth watching | mind candy | waste of time | unfinishable ]
reviewed 30 June 2007
2006/07
20 x 45 minute episodes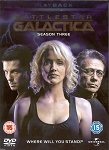 season 3 review
Where will you stand?
Phew! This is a simply massive season, moving the plot arc on leaps and bounds: the Cylon occupation and Human resistance on New Caprica, the escape, the further clues to Earth, the dissension in the Cylon ranks, the deaths of major characters, the Strike, the Trial of Baltar, the revelation of new Cylons, the resurrection of major characters. Everyone gets put through a series of emotional wringers, not least the audience.
This series does moral ambiguity so well. Everyone thinks they are good, yet everyone manages to do the most horrendous things at times. Roslin in particular is still seriously creepy, with that sweet smile on the outside, and bloody-minded vindictiveness on the inside. Sometimes you're sitting watching a complex scene of conflict, thinking "you're all in the wrong!" Or the most unlikely character will be the one to do the right thing. It's great.
Roll on final season 4, with the finding of Earth.
Rating : 2.5
[ unmissable | great stuff | worth watching | mind candy | waste of time | unfinishable ]
reviewed 12 July 2008
2007
104 minute mini-feature

Razor
This mini-feature tells the stories of the Pegasus, both during Lee Adama's command, and, in flash-back, during Admiral Cain's. It is mostly told from Kendra Shaw's PoV, as Adama's XO, and as a shiny new Lieutenant on Cain's ship [slightly confusing to start with, as I've only recently finished season 2 of The Sarah Connor Chronicles , where Stephanie Jacobsen plays Jesse]. Lee chooses her as his XO to represent Cain's legacy to the original Pegasus crew, and gradually revealed in flashback just what that legacy is (the flash-backs get three deep when characters remember the first Cylon War-- I like things that aren't told in linear order when it's done as well as this). It gives a new slant to the abuse of the captured Six (increasing the moral ambiguity to snapping point, given they explicitly acknowledge that they are doing what they are because it can suffer), and a prophesy from an old man in a vat about Starbuck's destiny.
It's been a whole year since I finished season 3, but I was slammed straight back into the breathless action and wonderfully drawn flawed characters. I'm now off to start watching season 4 (I waited this long, until the second half of the writer-strike-affected season was released, to get it all in one go.)
Rating : 2.5
[ unmissable | great stuff | worth watching | mind candy | waste of time | unfinishable ]
reviewed 6 June 2009
2007/08
10 x 45 minute episodes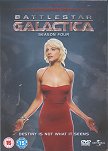 plus 10 x 45 minute episodes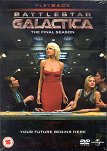 season 4
Destiny is not what it seems
The final season was chopped in two, due to the writers strike, but I waited for it all to be released on DVD before starting to watch it. However, the mid-season hiatus provided an opportunity for a great OMG moment: they find Earth, but...
So, this is the season of Earth. Lots of revelations and plot developments: the Cyclon civil war, the Final Five, alliances and mutinies left, right and centre, prophesies and dreams, the horror of Earth, angels, and the final resolution. Powerful (if occasionally confusing) stuff. And it managed to have a decent conclusion . On starting to watch the final episode I was convinced they had painted themselves into a corner and would either wimp out and not have an ending, or do something silly (say, shades of The Prisoner ), but they pulled something satisfactory out of the hat.
So, a great 4 years: powerful, unexpected, with marvellously flawed characters pulling through in the end.
Rating : 2.5
[ unmissable | great stuff | worth watching | mind candy | waste of time | unfinishable ]
reviewed 2 January 2010