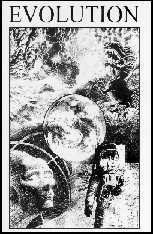 The 1996 British National Science Fiction Convention
5-8 April 1996, Radisson Edwardian Hotel, Heathrow
---
GoHs: Vernor Vinge , Colin Greenland, (science) Jack Cohen , (artist) Bryan Talbot, (fan) Paul Kincaid and Maureen Kincaid Speller
---
Once I had reminded myself this was a British Eastercon, and not a Worldcon (how we do get spoilt), I stopped thinking "a bit small, isn't it?" and started enjoying myself.
The Radisson Edwardian Hotel has to win an award for most confusing layout --- all very long, absolutely identical corridors --- "you are in a maze of twisty little passages, all alike".
---
Programme highlights
Panel: SF and Drama
Panel: Balkanising Britain
Jack Cohen : Redesigning the Human Body for Fun and Fornication . A reprise of his popular Glasgow Worldcon talk
Ian Sorensen : " Fandom of the Opera " -- A convention al Rock Opera
BoSh Remembered -- a Granada TV programme from the early 80s -- "SF is the only literature judged by its worst examples."
Panel: Tall Technical Tales
Panel: Elves in Spacesuits
Panel: Drawing Tomorrow : SF Art affects the way people see things.
---
Panel: Balkanising Britain
Why is the idea of a fractured Britain so fascinating to British authors?
A less perjoritive term is Cantonisation , as in Switzerland
It isn't that long since the Superstate was an obvious good idea. That inevitability has gone.

Large governments will be weakened, as strong encryption turns the economy totally 'black' to them
Virtual communities are not the answer: they have no clout because they have no tax base. The Internet community couldn't stop the CDA (Communications Decency Act)
Smaller, but non-virtual, communities may be natural evolution
"I realised that I've never voted for anyone who was ever elected -- neither has my father, who is 71!" -- Cantonisation makes your vote count more?

Anyway, it's a useful SF device for writing about many different societies without having to do much geographical research!
South American countries such as Brazil don't seem to have 'identity craving': is it a 'European' phenomenon?
---
Dave Clements: The Long Term Future of the Universe
Can we survive the death of the solar system? And can that event be postponed?
How long life can exist depends on whether the universe is open (continues to expand forever) or closed (ends in a Big Crunch).
Local survival problems:

Environmental: global warming or cooling
Comet and asteroid impacts

There appears to be a mass extinction approximately every 250 Myr.
Shoemaker-Levy 1994 impacting Jupiter makes it seem more likely.
We are lucky Tunguska 1908 didn't happen during the Cold War.

Nearby supernova: although supernovae were necessary to make life, by making the heavy elements ["We are Stardust, We are Carbon" as the song nearly goes] a nearby one is bad news. The neutrino flux alone may be fatal. There is a nearby supernova approximately every 250 Myr.

Death of the Sun

The sun will die (start burning helium) in about 7*10 9 yrs. It will expand and cook us, throw off material as a planetary nebula, and turn into a White Dwarf star.
David Griswell, in Interstellar Migration and Human Experience suggests Star Lifting as a palliative.

Remove material from the sun, until it is like a White Dwarf.
Slowly feed the material back on, increasing its lifespan by about 4 orders of magnitude.
This rate of burning, if all used, can support a population of individuals using up to 200 kW each, of 10 21 people.

Longer term problems (in an open universe)

1.25*10 11 yrs: our galaxy collides with the Virgo cluster

the hot intergalactic medium in clusters is a source of X-rays
the interactions stir up matter in our galaxy

10 12 yrs: star formation stops. All massive stars are now Neutron Stars or Black Holes, so there is no more recycling of matter for new stars.
10 14 yrs: even low-mass stars are now White Dwarfs.
10 15 yrs: all planets detached from their stars, by random interactions.
10 17 yrs: White Dwarfs have cooled to 5K.
10 19 yrs: Neutron Stars have cooled to 100K.
10 31 yrs: protons decay.

Dyson : in an open universe, we have fewer, more diverse resources. If we reduce energy requirements by 'slowing the clock', life can exist for the infinite age of the universe, but have only a finite experience.
Tipler : in a closed universe, as the universe collapses, matter and energy density increases. We can 'speed up the clock', and can squeeze in an infinite amount of experience before the Big Crunch.
---
Panel: Rocket Science in the Real World
Off-the-shelf

Now using ex-Soviet missiles to launch small satellites.
Using off-the-shelf parts makes satellites cheaper, so it is more cost-effective to launch shorter-lived satellites.
Can launch today's technology, not 1970s space-qualified technology.
Less research into radiation hardening; but this is still needed for long-lived deep space probes

Unlike NASA, ESA has 'guaranteed funding' and a stable environment. Programmes don't need to go back to the politicians every year. (But this may soon change.)
Comet Hale-Bopp arrives next year: we can't launch anything to intercept, because we have no 'quick response' capability. We can only go and look at things we know are going to happen (like Halley).
Each satellite is a one-off design, and there is no feedback from users to designers. Design is driven by engineers and politicians, not by the users of the data. Example: the Infra-Red Orbital Satellite's orbit will miss either the Galactic centre, or the Orion star formation region.
Unobserved data

Large scale survey missions produce lots of data, only some of which is looked at at the time. The rest is archived.
The Russians are recycling the silver nitrate from their original launch films.
It is easy to lose the data format, lose the technology that can read it, lose the separate calibration data without which it is useless...
Hipparcos is to print a star catalogue on acid-free paper, using a typeface that is easily machine-readable.

Launch turnaround

The Shuttle takes 5000 people 6 months to turn around a launch. (Mainly because they have only three and a half shuttles, and have to strip parts off one for the next.)
The target is 5 people, 1 week turnaround.

Space debris

Upper launch stages are a big problem, but manufactures are now designing around this.
No-one is test-destructing satellites anymore.
Low-lying stuff will burn up in about 20 years.
The Space Station is designed with Kevlar armour
'Debris avalanche': if one satellite blows up and scatters debris into the orbits of others, they could also blow up, until eventually there aren't 600 satellites, but 6 billion scraps, in orbit.

Asteroid deflection

Clementine: SDI sensors looking at the moon. It was to look at an asteroid, too, but failed first.
Clementine II, 1998. Fly by small asteroids, launch small probes at them, to find the composition.
No asteroid is seen to be spinning faster than is consistent for a non-solid gravel body. Such would be hard to deflect.
---
Panel: Living Through the Singularity
When machines become as creative as humans -- and then more! -- there comes a point beyond which you cannot see or predict.
We simulate reality. We will make devices that can simulate reality faster and better than we do.
Information is key

We are now developing information sifting tools
Explosion of Web search engines of greater complexity -- some now do contextual searches
Misinformation is a problem: "The Net of a Million Lies"
Norbert Weiner once said "A milestone has passed: the amount of information on how to make information available is now too great to be known by one person."

Ubiquitous, pervasive computers -- the computers disappear, become part of the environment, eventually part of us. "I already feel my computer is part of me ."
How fast will it happen? "On any exponential curve, tomorrow is an emergency and yesterday is tame."

Soft take off -- 100-150 years -- easy to manage, those participating will hardly notice -- Hans Moravec's Mind Children

Unlimited technological advance might not be all good -- what if the cost of immortality and infinite intelligence for a thousand people was the destruction of the solar system?
---
Bryan Talbot: GoH talk
This was heavily illustrated (naturally!), and structured around his new graphic novel about child abuse and Beatrix Potter The Tale of One Bad Rat . Since this is a mainstream novel, not genre, he tried not to use too much of our "acquired knowledge of comic grammar", in order to make it more accessible. He explained some of the techniques he did use:
Use diagonal lines to indicate speed and movement
Make the hero's face big in the frame
Putting the reader's eye level at about a character's chest level makes them look heroic
For sympathy in Bad Rat , where the hero is a child, make the reader's eye level the same as hers, and hence lower than most of the other characters. Also the vanishing point is often between her eyes.
Notice how Rupert Bear is in every panel, wearing the same clothing: this makes him very easy to identify.
Use red in Bad Rat to indicate subliminally something bad.
Sometimes design a whole page around the lettering positions
It is possible to use 'split screen' techniques much more effectively than in film, because the reader has time to study both screens.
---
Tromso, 200 miles north of the Arctic Circle, forms the topography of the Tine home world in A Fire Upon the Deep -- makes it easy to be substantive
Likes to illustrate his own work: pictures of a Tine pack, diagrams of the various galactic Zones
'Visual dictionary' of Tines performing 'everyday actions' -- reaching for a book, making a gesture -- as a group mind. It would probably look very unsettling. (Someone suggested it would make a good Masquerade entry.)
There are some inconsistency problems in A Fire Upon the Deep -- "but you can always turn a problem into a prequel"
Earth is in the Slow Zone -- so the Singularity cannot happen here -- we are in "The Age of Failed Dreams". Technology improves for a while, then tails off -- software gets too complex, hardware stops improving -- what will it be like after 6000 years of legacy software?
If two asteroids almost collide, tidal forces can affect the 'loose stuff' on their surfaces, and hoist a satellite into orbit about either asteroid, and form tidal moraines .
---
Caroline Mullan & Greg Pickersgill: Fandom as Gynocracy
Women are in the minority in Fandom, but are able to be leaders.
"You are making the classic sexist mistake: you are exaggerating the contribution of women, because you perceive women being active as anomalous , and hence over-count their contribution."
There are proportionally more women in Star Trek Fandom -- "some of the contempt levelled at media fans is just plain sexism"
---
Panel: Tall Technical Tales
Some very odd things go on in labs late at night...
Jack Cohen 's PhD on feather development at Hull U. Had a vivisection licence to pluck no more than 20 square centimetres of feathers from anaesthetised chickens. Panic on the day the Vivisection Inspector visited: the monkey had plucked a chicken bare!
Spray nitrogen tri-iodide (which explodes at the slightest contact) onto a window, and wait for the flies to land.
"A human brain looks a bit like spaghetti in tomato sauce, and almost nothing like what you see in films."
Bringing back a 6 inch cube sample of concrete from a Saudi Arabian airstrip, for structural analysis, neatly packaged in its own wooden box. Customs cut it into 216 one inch cubes before they would believe nothing was being smuggled.
Jack Cohen was flying blue-tongued skinks in from Australia. They require burping, to stop them haemorrhaging because of the reduced pressure. In a holding pattern over Heathrow, going up and down for two and a half hours, he had the whole plane burping his skinks.
---
Jack Cohen: GoH talk
Jack Cohen 's life in science (and on the edge...)
Spinoza's Ethics had a big effect on him. The person teaching him to be a Rabbi told him: "Don't read Spinoza, he's an atheist". "But there's God on every page!" "Alright, he's a pantheist." If the person teaching religion doesn't know the difference between an atheist and a pantheist...
"That was when I stood up to be counted. As usual, the count was one."
Research on feather development, hair, pigmentation, embryology
Schools lectures on "What does a Martian Look Like?" What is universal (so might also be seen in aliens), what is parochial? The universal four Fs : fur, photosynthesis, flight, mating.
On BSE: Cows have been eating chicken droppings as a nitrogen source since 1950.
1974. The Belousov-Zhabotinsky reaction (a chaotic chemical system of propagating circular or spiral waves) ought to be made easy for teachers to demonstrate. The Winfree-Cohen system is now the one everyone uses.
Why are so many sperms produced? Genetic crossover often goes wrong, only the sperms where it is right succeed: nearly all sperms are coated with antibodies and killed. Hence, more crossovers, more sperms produced.
Cervical smears: showed that some apparently pathological ones are actually just ordinary physiology. Reduced false positives by about 25%.
"I reckon I've got about 10 years left, and it's still interesting!"
---
Panel: Elves in Spacesuits
Far future SF: " Any sufficiently advanced technology is indistinguishable from magic "
An 'operational description' and a 'magical description' are often the best shorthand description of what is happening.
It is a mistake for magic or religion to align itself closely with the science of the day, because science dates . Example: Thomas Aquinas 'explained' Transubstantiation in terms of Aristotelian physics, where form and substance are distinct.
"Any sufficiently advanced technology is indistinguishable from animism"
Story summary: in the 1600s the witches wised up, and invented science. An old lady on a broomstick gets burned and old lady in a 747 is okay, even though there is a broomstick in each 'nacelle'.
Try pretending you are an historical figure, then go about your everyday life: try reading reality as fantasy.
---
Panel: 21st Century Odyssey -- SF as Travelogue
In Fantasy the quest, and its achievement, is the point. In SF, the journey is more important than the arrival. Example, in Fantastic Voyage , the purpose of the journey is of no importance at all, the real purpose is "to boldly go".
Much of SF is exploration , of planets, of technology, etc. People who are interested in SF are people who are more interested in questions than in the answers.
In SF, one can do far more than in other kinds of writing, one can put words together in new kinds of ways. Example: Heinlein 's "The door dilated". But there is a new burden of metaphor versus literalness, examples: "her world exploded" ; "the sun exploded over the horizon"; "he turned on his left side". So SF metaphors have to be a bit more elaborate.
I'm still looking for old-time fan Chuck Harris's werewolf yarn which opens with the legendary line: "The family were changing for dinner."
-- Dave Langford . SFX 51 , 1999
Kim Stanley Robinson once said "In SF, you can get there from here; in Fantasy you can't". A fantasy world is either self-contained and self-sufficient, or you get there by magical means, like through the back of a wardrobe. In SF, you can get there by living long enough, or travelling far enough, or backing up the time stream until you reach the forking point.
SF is a Conspiracy of Dreams .
Hal Clement 's Mission of Gravity is essentially a travel book.
Ursula K. Le Guin argues in "The Spaceship and Mrs Brown" that you need human characters. But as well as a character-centered 'Portrait Novel', you can also have a plot-centered 'Landscape Novel'. Criticising these for a lack of characters is like criticising the expressions on the faces in Constable's landscapes.