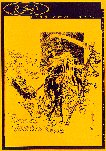 The 50th British Easter Science Fiction Convention
2--5 April 1999, Adelphi Hotel, Liverpool
---
GoHs: Peter S. Beagle , Jeff Noon, John Clute , Tom Holt, (artist) Ron Tiner.
---
The artwork on this year's Programme Book's cover is much improved over the previous two Eastercons. But that improvement is counteracted by the low quality of the printing inside it, where the height of each line wanders all over the place.
The format was changed slightly from usual, and I think it worked. Rather than timetabling the one-hour item every hour, they were timetabled every 90 minutes, allowing items a full hour, and to overrun slightly if needed (they rarely did), and giving a more relaxed transit between parallel items. (I also found it easier to eat at sensible times.) When I first saw the programme listing, I was concerned that it seemed a little sparse, but in the end, I went to as many good items as usual. Although the quantity was down, the quality was up: mostly new items, with fewer repeat items, and better-focussed panels. (However, maybe not enough use was made of non-GoH attending authors, possibly to their own relief.)
Of a particularly impenetrable piece of technobabble:
This book was not written in English. Although it did use only English words.
There was a good strong filk programme. (I don't sing myself, because I can't carry a tune in a bucket. I also discovered, whilst trying to clap along to one of the songs, that I can't carry a rhythm in any sort of vessel, either. But I do enjoy listening.) Phoenix did their usual set-piece, and there was a lot of time given to more informal concerts. A new generation of 70s based-filk was noticeable, mainly Abba: "Gimme Gimme Gimme (a Ranger at Midnight)" a B5 filk (where the next line -- "Won't somebody help me chase these Shadows away?" -- requires only a change in capitalisation!), and "Ring, Ring", a LotR filk. Some songs will never be the same again: "Walk on the Wild Side" metamorphosed into "Another Trek Movie", and "I'm Going to Barbados" become "We're off to Fight the Klingons" (where 'Klingons' was imaginatively rhymed with 'villains', or 'villons', and the subsequent groan from the audience formed the next line of the song!) There were some good serious songs too, mainly about spaceflight -- Jordin Kare seems to be inventing a history and culture for a profession that doesn't even exist yet!
Of a filker's four guitars:
And he laughs at me for having too many harps !
Once again, I tried to buy David Hardy's brilliant Neighbours at the Art Auction; once again I was rapidly outbid.
---
Programme highlights
Yoda : My dog has no nose. B : So how does he smell? Yoda : The force he uses.

Yoda : Why no aspirin in the jungle there are? B : I don't know. Why are there no aspirin in the jungle? Yoda : Because the parrots all them eat.

-- William Shatner Sisters revue
---
Panel -- The Campaign for Real Fantasy
Authors don't always get it right. The panel points up some glaring mistakes.
Some authors try to be logical with magic but it then all falls apart -- you must either be magical/illogical, or totally logical -- authors lose track of what's feasible within their own rules. Or the magic works only when the author wants it to.
One book had a wereshark sent to capture the protagonists in a desert. What use is a wereshark in a desert ?
Tolkien has a lot to answer for -- all fantasy quests start in the autumn, a time of bad weather, blocked passes and so on. But Tolkien was a professor -- autumn is the beginning of the academic year.
Fantasy has become part of the romance genre, and so has become simplified and fluffified. ( Mercedes Lackey has a lot to answer for here)
Anecdote:

Unidentified panelist : My villain is better drawn than Sauron, because he has proper psychological motivation. He was raped as a child, and so has a reason to be evil.
( Diane Duane , attrib ): Sauron's motivation is that he's the effing avatar of effing evil, you effing stupid woman!

[How come I only ever hear these great quotes as anecdotes, never for real?]
A villain is never a villain to himself. I always seem to feel sorry for my villains.
Unrealisms:

I worry about all those moons -- there's always a pink one and a blue one -- I worry about the tides
People never seem to sleep for more than an hour a month.
Nobody gets a cold, a headache, blisters, or pulls a muscle. No-one ever has a nervous breakdown after all the horrors.
Anyone who has been tied up can always run and fight immediately when released.
Language is either all "forsooth", or utterly contemporary. Ursula Le Guin took a scene from a Katherine Kurtz book, put it in the mouths of congressional lobbyists, and it sounded fine.
Nobody has foreign language problems -- everyone speaks the same language, no matter how remote their country, or they just cast a translation spell (a la Star Trek universal translator)
Tanya Huff 's heroines are about the only ones who get pregnant. Usually there's some herb.
Chain mail and long hair don't mix. Or rather, they do, and that's the problem!

Most modern fantasy has no context , no past or future. I can't visualise that society continuing after I close the book. They need a culture with a past, with resonance, not just cardboard cutout stereotypes. Robin McKinley has context.
Fantasy has been infected by bad historical novels. Not just the way people speak, but their psychology -- unrealistic modern PC attitudes on child abuse, relationships, and "does my bum look big in this?" Also, wolves have become PC.
Dungeons & Dragons is to Fantasy what strip mining is to the environment.
Media:

Hollywood medieval is either Robin Hood, or "authentic look" where no-one can hem.
All fantasy movies/TV are aimed at children.
I don't mind Xena, but I think she ought to keep her knees together.

The Normans were accused by their priests of being debauched by the Anglo Saxons -- encouraged to bathe weekly, and to do unmanly things like grow beards and grow their hair long.
High Fantasy: elves, and heroines called Vanyella. Low Fantasy: heroes called Snotwort, and no-one washes, ever.
Emma Bull urban fantasy has a good new spin -- there's a totally separate political system running in parallel that doesn't care what the heroine is doing, she's just a human.
The right name for a character can suggest an entire culture or world. A bad name can ruin a book.

Guy Gavriel Kay : Aileron -- it's part of an aircraft, not an Irish name
Bulmer: The Welpak -- an alien race, and a brand of DIY goods
Princess Manua -- looks good, until you say it!
steal from Celtic and Gaelic myth, put in bh's and sh's everywhere, you can end up with something that's very rude when you say it.
Worm Ouroboros: the names are all the same, but the story still works -- once in a while, if you are good enough, you can get away with poor names

It doesn't matter if it's not accurate so long as it's good.

"This is not feasible -- so we have to make it plausible."
Maybe you can have potatoes anywhere, but it does need internal consistency.
Can sometimes get too close, too detailed -- a Japanese brush painting should be viewed from a particular distance, it doesn't need to have all the details of all the feathers, just the right suggestion of them.
Princess Bride -- the author makes it clear he doesn't really care about the details -- but it works.

I would ban: apostrophes -- elves -- warfare -- comfort. ("If you want something without apostrophes, I can give you a load of first year essays!")
Steven Brust, Ellen Kushner, etc, seem to be writing fantasy because they are not allowed, by the accountants, to write swashbucklers.
Temporal location:

All fantasy worlds seem to be stuck in the 14th century -- for ever
"In the Middle Ages, people did X". "That's a 750 year period you are talking about -- would you care to refine that a bit?"
A few are set at the beginning of the industrial revolution -- but don't seem to work. It's not a "Romantic" period, so there's not much popular history of the time. Has anyone at the age of 12 ever fantasised about being Isambard Kingdom Brunel's favourite female apprentice?
---
Panel -- The Weapon Shoppers' Guide
War in the new millennium.
We need better weapons -- BFGs (Big Guns) -- or the other side will win.
Battleships can be too expensive to use. If you are close enough to hit a shore battery, they can also hit you, and you cost 5 times what they cost.
Small is beautiful -- have you ever tried carrying a BFG?
You want to do the least killing/carnage for the greatest effect

knife missile that floats around then kills the right person
nano-missile, 1mm x 0.1mm (too small to see)
minute amount of antimatter

"Bigger" can mean not just physical size, but also killing power. A tac nuke in a suitcase counts as a BFG, as does a tactical nuclear hand grenade.
Air superiority is good, space superiority is better. Can subdue from the air, but still need sentient lifeforms on the ground.
Small simple weapons can be thrown away when they break. Big complex ones need large maintenance crews.
In about 2050, all warfare will stop, because no new weapon will ever get into service in the first place, because of lengthening procurement cycles.
We have lost the ability to build a strategic bomber. The last one that worked is 40 years old, and obsolete. New designs get gold-plated into uselessness.
As firepower goes up, tactical dispersion goes up (unless you can't train them, when you bunch them up to command them). Already can barely see the next guy in your squad.
Military psychology: almost no single person pulls the trigger -- crew weapons kill more often. On Killing , Daniel Grosman: single person weapon, 15% pull trigger; dual person weapon, 95% pull trigger. That's why there are two people in a missile silo. Also, more likely to pull the trigger on a video image.
Weapons that wound rather than kill -- making logistics a weapon.
Teleoperated planes already used for reconnaissance, next for fighter planes. Hence a cryptography war.
A lot of our new systems are desperately trying to reduce death on our side. How vulnerable are we to an enemy who is willing to die?
WWII: bombing cities is okay, but we won't use gas (all sides had it). Each new war brings a new aesthetic.
Aesthetic of reduction of "collateral damage" is enforced by CNN. "If everyone would stop shelling their own people, there would be a lot less killing": each side shelling their own suburbs to make the other side look bad on TV.
Senior Command Staff training in the British Army includes dealing with the media.
Many chemical weapons are easy to make in a small lab. So are dirty nukes.
Western culture is developing an ideal warrior under-class: young lads hanging around in gangs, wanting to fight, uninterested in families, etc.
In the last 5 years of the 20th century, more people have been killed by machetes in Rwanda than by all the high tech weapons in the rest of the world.
Current events mean we are running out of non-nuclear cruise missiles, and are de-nuclearising some.
Nuclear powered bomber: "the plane you don't want to shoot down"
Since WWII, "victory" has changed. It no longer seems to involve deposing anyone, changing governments, or even stopping fighting.
The best way to win a war is to surrender: they send in their troops, bankrupt themselves, and you assimilate them.
---
Panel -- Secret Histories of the 20th Century
Being a Committee of Enquiry into Certain Events
A cross between a panel and a play, as the participants pretended to be at the end-of-century committee meeting investigating the SF of the 20th century -- which is in fact all true. History is just what we are allowed to know by the BSFA.
Tamogochi -- creatures of "unnecessary responsibility".
We are merely a tamogochi culture designed to amuse civilisation in the Beyond.
"When I say 'we' I'm talking about anybody other than myself."
Modern SF films are teaching us not to worry about continuity.
---
Jordin Kare -- Actually, I Am a Rocket Scientist
Weird and non-traditional propulsion methods
Compare cars and computers from the 1960 with today's. Now do the same for rockets -- they haven't changed! However, over the last 5 years or so, we have started to build better rockets -- especially reusable stages.
Once listened to Jerry Pournelle espousing SDI -- "modern tech can do anything you want" -- at which point his microphone failed.
Conventional wisdom: liquid hydrogen plus liquid oxygen. But

Liquid hydrogen is very undense. Kerosene has less performance, but is denser, and needs no cryo, so can have smaller lighter rockets.
Similarly, hydrogen peroxide is denser than liquid oxygen, and can get rid of all the cryo.
Difficult to convince the community -- there's a lot of investment in hydrogen/oxygen simulations

Beale, a Texan millionaire putting in $250M of his own money -- cheap fibreglass "Big Dumb Booster" running on hydrogen peroxide and kerosene.
Rotary Rocket Company -- a major complexity is the high performance fuel pumps needed for SSTO -- so instead spin the engine to pump the fuel -- has about 20% of required funding, including some from Tom Clancy.
Horizontal versus vertical take-off religions: "wings are better" versus "wings are heavy"
EELV -- Evolved Expendable Launch Vehicle -- has been through so many name changes it was known as "Shapeshifter" for a while.
"Bricklifter" -- take off 'empty' and refuel in flight (it's the height, not the speed, that's important) -- refuelling changes weight by a factor of four -- advantage: definitely requires a pilot!
Use big airliner as first stage: put a little rocket on a 747. But airliners are not designed to carry loads on their backs. So tow a spaceplane -- it can be much larger. Have towed a surplus jet fighter this way.
"Hypersoar" -- skip out of the atmosphere, coast, refire engine, repeat. For journeys greater than 6000km, cheaper than subsonic flight. And can be adapted to carry a space hopper.
Getting whackier:

747 with a shuttle engine
747 with hydrogen fuel -- thrust to weight ratio of a jet fighter
long tow rope, 747 in a steep dive, "crack the whip"

All time favourite assisted launch scheme: launch vehicle on south side of Grand Canyon, tow rope over to north side (which is higher), round a pulley, attached to a box full of water. Drop it over the side. (14th century aerospace engineering!)
Cannon launches:

Can't get enough speed out of a burning explosion -- you outrun the expanding gases
Hot hydrogen has a speed of sound high enough to get a good fraction of escape velocity.
JVL Ltd (Jules Verne Launches) -- small trial has fired 5kg at 4km/s, 10,000g (so can launch just about anything, except astronauts).
Carry a small rocket stage to go the rest of the way. (Always needed from a cannon launch, at least to circularise the orbit.)

Rail guns have a tendency to eat their rails over a few km/s. "You can only do it once."
Coil guns -- high temperature superconductors would have been good.
Scram accelerator (ram cannon)

There's a limit on ramjets of Mach 10-12, about half orbital speed, because they have to carry fuel and slow down their air intake. They have to be built out of "unobtainium" and "baloneyum".
So turn it inside out. With a tube full of gas, can accelerate a projectile up to orbital speed.
Instead of a tube, could use a row of well-placed balloons...

Laser propulsion

Powerplant on the ground
Pulsed ablative propulsion: don't need a nozzle, ablation is perpendicular to the surface
Could use a block of ice, but it melts. Want "water in solid form" -- cucumber slices? (and scale up to watermelons :-)
Laser launch system, cost $1bn, launch 200kg every 15 minutes (so can launch just about anything, except astronauts)

precision

Engineers work to a couple of decimal places
Physicists work to an order of magnitude
Astrophysicists work to an order of magnitude in the exponent

Beanstalks: materials need to be stronger than we know of yet
Space tethers, etc: work better on the moon, where you can get down to the surface. Bob Forward has designs.
Tether material can be used to build "TV towers" out of the atmosphere. Biggest problem is storm wind loading. Haul stuff to top of tower, launch from there. (Could probably pay for it with the revolving restaurant at the top :-)
Whackiest launch scheme attempt: adapt the Grand Canyon launch scheme to use two of these "TV towers"
---
Julian Headlong -- And Here's One I Prepared Earlier
A Headlong dive into the past
Retrospectives, introductions and highlights from previous convention talks.
Alchemic recipe for a 100K superconductor
"Even Stronger Anthropic Principle" -- to explain all the humanoid races in Star Trek
"Torturing babies for fun and profit" -- cystic fibrosis diagnostic test, measuring sodium levels in sweat
Change the iron in haemoglobin to a different metal, plus a few very minor changes:

Copper -- crab blood (and Vulcan blood!)
Magnesium -- chlorophyll
Cobalt -- Vitamin B 12

We also need zinc, iodine, copper, ...
A vitamin is any biochemical we can't make ourselves, but need.
We don't make vitamin C, but there's enough everywhere, so it doesn't matter.
Given any biochemical pathway, there are probably hundreds of others that differ slightly
---
Criticism and fantasy in relation to the film Groundhog Day
SF must have a CONCEPTUAL BREAKTHROUGH at some point. A conceptual breakthrough leads to change. "Franchise SF" (eg Star Trek , or Star Wars ) cannot have change, therefore cannot be SF.
Needed to get the same critical model for Fantasy. Started with a "knot". Eventually got the process of WRONGNESS , followed by THINNING , finishing with RECOGNITION , which allows healing. Tried to embed this "secret history of fantasy" in the Encyclopedia of Fantasy -- the arguments work, and give a way of writing the book.

Supernatural stops at WRONGNESS
Fisher King/Gormenghast: no RECOGNITION , so no possibility of healing
Weird stories: THINNING , but no RECOGNITION .

Dark fantasy and horror also have no RECOGNITION , but do have something beyond THINNING . Something is missing from the critical model. Dark fantasy is a subversion parody of fantasy -- instead of RECOGNITION the central part is DARK REVEL , a kind of Walpurgisnacht.
There are stories of stealing between Groundhog Day , 12:01 and One Fine Day . Can the model help discover if there was, of what, and from whom? After all, there is no SF/Fantasy story written today that is not built on all the stories that have gone before.

12:01 -- original half hour short. The protagonist is caught in THINNING , and can get no further, cannot escape from the time loop. It is horror.
12:01 -- the TV movie. They escape the time loop after about 7 days. There is a CONCEPTUAL BREAKTHROUGH , where they work out what the problem is, and solve it. It is SF.
Groundhog Day . There are at least 35 separate days shown, but many more implied (it takes a while to become a concert pianist, after all). The point of the film is the main character's gradual RECOGNITION of who he has to become in order to be attractive to the female lead -- his passage through THE GOD GAME , a maze of the day the hero has to get through. Here, the magus who says "you have passed" is the weatherman himself. Groundhog Day is Fantasy.
X Files episode " Monday " (not yet seen in the UK) -- a parody of Groundhog Day . You can tell it's a parody, because it starts off with the clockface, but the face is blank! So it would be Dark Fantasy -- but because it is part of a series, there can be no change, so it cannot conform properly to the model.
---
Panel -- Second Endings
With one bound he was free? How the panel would have continued the story differently.
The moderator read out a short synopsis of a plot up to a key point, then asked the panel to finish it off. I think this would have been a lot better if the panelists were instead encouraged to write their story on the fly (maybe a few sentences each around the table) rather than getting into deep serious psychological plotting of motivations. As it was, it went too slowly, and only two plots were discussed.
Poul Anderson . Planet of No Return .
"Children of Time": Deep Space 9 episode.
[I don't know whether to be more embarrassed that I didn't recognise the Poul Anderson story from the synopsis, or that I did recognise the DS9 one!]
---
Masquerade
highlights:
" Innocence Lost " -- Jaine Weddell and Kathy Holroyd, designed by Paul Holroyd and Jaine Weddell. Best Costume; Best Workmanship; Best in Show.
Well-acted scenario of the seemingly "innocent white fairy" being corrupted by "evil black fairy", with a twist in the tail. Excellent wings (the white wings flapped, the black ones unfurled).
" St Hugo of Fandom " -- Andrew Patterson. Jury Award for Workmanship.
" Post Millennial Media Fans " -- SMS and Co. Audience Appreciation Award; Best Presentation Award.
Hilarious -- especially the chanting, and the ritual sacrifice of the "Hu-go-win-ner" -- a tiny Clanger!
---
Peter Beagle -- GoH interview
Attracting the notice of the gods is dangerous -- "fly under their radar".
Unicorns -- actually, I can take them or leave them.
With screenplays, it is expensive to set scenes outdoors. With books -- biggest budget ever!
Writing for movies has made me a lot more visual -- I "see" better.
I wrote a ST:NG episode (about Sarek) -- I needed the money!

I told the producers stories: I thought I was getting somewhere when they stopped taking notes on their yellow pads and just listened.
Melinda Snodgrass (script editor) told me "the only episode where the writer got more letters than the actors".
Whenever a writers meeting got a phone call from a cast member, could tell if it was Patrick Stewart: they would cover the phone and say "it's the actor".

Words generally don't make me cry -- music does.

I'm good enough, on a guitar, to know what's really good.
Classic ritual magic has a lot of singing in it.
I loved the inclusion of song and verse in The Lord of the Rings .
The Innkeepers Song : the song came years before the story.
Singing (and dishwashing) are the only other things I've done for money.

I don't read that much fantasy or SF. I read a lot of history, and recently I've started reading poetry again. I'll read anything by Peter Dickinson.
I have 5 guitars -- one is 105 years old. I've been complimented on the value of my investment -- but even when I've needed money I've never sold one -- I have them because they are beautiful.
I wrote A Fine and Private Place (at the age of 19) and The Last Unicorn without outlines. But you can do that only so often. Which is why it took me 18 years to write People of the Air . I'm not in the SCA, but people who have read think I have been, so it must have come out right.
When you live with imaginary characters in your head, hear imaginary conversations, see landscape that doesn't exist, sometimes it's difficult to draw the line between self and the character. I'd hate to do a series character in lots of books, for this reason.
"How did you come to write the words for 'American Denim'?" -- The things I'll do for money never cease to amaze me.
---
Jack Cohen -- The Science of Discworld, the Magic of Roundworld
(There were some new slides!)
Most people regard most science as "magic", with good reason.
New book: The Science of Discworld , the Magic of Roundworld . Terry Pratchett's Discworld runs on magic -- in this book the wizards try to build a Roundworld (our world) that "just runs", used as a way of talking about and explaining science.
The interesting thing about our world is the complexity.
Science is about not understanding how the world works, and getting better and better guesses.
Different ways of looking at things: "Lost Property" versus "Objets Trouvé". Discworld looks at Roundworld "from the other side".
Extelligence, narrative imperative: "straw, wood, brick", "1,2,3" (as explained in Figments of Reality ).
Science that has stories works for us. We have stories about evolution, about relativity. But no stories about QM, so it doesn't "work". [Although the Many Worlds Interpretation might be a story that does work?]
Can explain how things work, but that's not the same as understanding how they work.
We have a rich society: we have enough room for soldiers, for social workers, etc.
More than half the income of the RSPCA comes from people who hunt and fish and shoot, who are genuinely involved with organisms.
Early tech -- you had to know how it worked to use it: early cars, early computers. You can see how a steam engine works. We are turning technology into magic -- someone else's magic. Only a few years ago it was almost impossible to programme a VCR -- now we just type in the correct "spell": the number out of the TV listings magazine.

Arthur C. Clarke : Any sufficiently advanced technology is indistinguishable from magic. ( 3rd law )
Gregory Benford : Any technology distinguishable from magic is insufficiently advanced.
Mark Twain: Why shouldn't truth be stranger than fiction? Fiction, after all, has to make sense.

Magic is verbal instruction being translated immediately into material effect. To use it, you need only use the right words, you do not need to understand how it works.
But tech as magic helps us stop putting our brain in gear.
A psychologist got children to draw bicycles. They usually get it wrong -- chain running between the wheels, for example. Only in a world where technology has been turned into magic can we not need to know how it works.
We've reached the stage where no one understands anything. Our extelligence is greater than any one person's intelligence -- the extelligence knows much more than any one person (origin of monotheism?)
There aren't any rules for natural selection before organisms. The world makes organisms using previous rules, then it "makes up" the rules for natural selection once it has organisms. The universe is growing into itself.
Does there have to be a Grand Unified Theory of Everything? Is there any reason why the abstract rules of chess and football have to be the same?
It is good to have some people who know a lot about some things, and other people who know some about a lot of things. NECSI -- New England Complex Systems Institute -- nice name, because "Nexialists" link the sciences in Van Vogt's Voyage of the Space Beagle .
People are doing things in the extelligence that are completely incomprehensible -- like GM food. The Frankenstein magic -- the idea that we "shouldn't understand" -- it's there in the extelligence that "knowing too much is bad for you".
How to keep up: I read six books a week, 3 SF and 3 non-fiction, and keep up with about 30 journals. It's difficult.
The greatest magic may be communication. Read Pinker to see how much the brain has to do to communicate. You may say, of a parrot, "oh, it's just copying" -- but it turns out that even copying is enormously complicated.
"I've only got 10 years left!" -- [But that's what he said at Evolution , 3 years ago!]
[I think a careful distinction needs to be made about kinds of explanation: there is explaining what a thing does, which is a kind of magic -- "the light switch turns on the light" -- and explaining how it does it, at a certain level of detail, which can require a degree of understanding (if the explanation is correct, of course). This seems to link in with Dennett 's use of " the intentional stance " -- explaining what things do as if they were agents with beliefs, desires and goals -- "the thermostat wants to keep the room at constant temperature".
And here I suspect might be the difference between magic and science. Magic must be repeatable : if you cast the same spell, it must have the same effect: if you push the same button, it should do the same thing. Science must also allow prediction in different circumstances: if you do something a bit different, you must be able to work out what will happen. And that's why computers are magic. You have very little confidence that you know what will happen if you push a button under new circumstances, or push a different button.]
---
David B. Wake -- Captain Tartan Saves the World -- Again!
The Mysterons are back after a 20 year hiatus, and the discredited "plain clothes" division of Spectrum makes way for the "patterned division", and Captain Tartan, the only puppet left in Cloudbase after the Blue Fairy made the rest human. An hilarious 90 minute play, with wonderfully imaginative "special effect" (like Colonel Mustard's rotating polystyrene desk), knee deep in TV SFnal references, including:
Captain Scarlet -- well, obviously
Space: 1999 -- scenes in Moonbase Alpha with correct one-sixth gravity
Thunderbirds -- Jeff keeps mistakenly calling all his sons after early Russian cosmonauts
UFO -- purple wigs, Interceptors with only one (bean bag) missile, and a comment that Ed Stryker looks just like Captain Blue...
Mission Impossible -- "this tape will self-destruct..."
X Files -- Mulder and Scully try to investigate the Mysterons
Cluedo -- the boss of Cloudbase is the newly promoted Colonel Mustard, the communications guy got religion and is now Reverend Green, and a particular indestructible Captain has had a sex change to become Miss Scarlet.
2001: A Space Odyssey -- a lovely cabin crew "in flight announcement" scene
Pinnochio -- long nosed puppet gags
Cyrano de Bergerac -- brilliant -- took me completely unawares, even though Rhapsody the Fallen Angel is now called Roxanne, and even though Captain Tartan's nose grew when he lied!
I loved the way the jokes were nested and carefully set up. For example, as well as the careful Cyrano de Bergerac set up, there was a lovely "rock-scissors-paper" gag, where both the moon rock (seaside rock with MOON all the way through) and the giant scissors had already been used in earlier gags of their own.
And then there were the chats between the Mysteron circles in high squeaky voices, before they remembered to use "the scary voice" to talk to the humans. And then...
I guess you had to be there.
---
Panel -- Careering into Space
How to design your academic career for a job in space
Very few of us will end up working in space. But the range of associated fields is large -- astronomy, engineering, insurance, legal services, even tourism.
SF does have a lot of support services in space.
The people who a really enthusiastic about space tend to become the space scientists -- and don't get into space!
Homer Hickam, Rocket Boys -- story of some boys growing up in a poor mining town wanting to get into space -- "I was halfway through it before I realised it was non-fiction!"
Most astronauts were traditionally pilots. Now also mission specialists -- but being a very focussed specialist is not the way -- they tend to have 3 diverse degrees (and the women need 5, of course) so they can operate all the equipment.
Bryan Burrough, Dragonfly: NASA and the Crisis Aboard Mir -- reads like a dystopian space novel. Some of the American astronauts were terribly unsuited to spending months in a tin can, spending four hours a day mending the plumbing.
Need to be good with languages -- not just to be able to speak them -- but otherwise you get impatient with others whose English is not good.
From 1917, when most foreign languages were "abolished" in the USA, Mormons were about the only ones who could speak foreign languages, and were in great demand by the CIA. Maybe groups who specialise in producing missionaries are a good source of space people. A strong sense of self is important -- wanting to give your beliefs to others is rather less so!
Except for the US, most space companies are international. The "International Space University" runs a summer school where a prerequisite is to be able to speak 2 European languages.
Not all careers in space are scientific: at a recent Hazards to Satellites conference, about 5-10% attendees were lawyers or in insurance. "And if you become a lawyer, there will be any number of people who want to launch you into space."
Useful skills in colonies:

UEA offers a degree in "Developmental Engineering" -- how to fix plumbing with bamboo and string
Whatever jobs are "fashionable" -- maybe we'll all see a counsellor once a week?
Multiple qualifications -- you get the job because you can also do hairdressing
If very overqualified, can end up with very frustrated people -- either never get to use most skills -- or "it's only my hobby : I don't want to do it ever 4 hours!"

Space tourism:

Cape Canaveral proves you an build a town on nothing but tourism.
Even at $100,000 a flight, 10s of thousands would buy it. Once it becomes the price of a first class (sea) cruise around the world, we're off!
Richard Branson is interested.
A Japanese reporter was bought a flight to Mir.
The collapse of the Russian economy was all that stopped more trips to Mir.
Biggest danger: regulation! The X prize, to boost someone over 100 miles -- painting an X number on the side means it's not commercial, so the regulatory bodies are not interested. But people organise trips to climb Everest, and that has a high fatality rate.
Health insurance is not a problem -- you will need only life insurance -- if something goes wrong, you're not coming back.
Maybe the best bet is to become the tour lecturer on the space cruises!

Mir is the best case scenario:

NASA: everything must always go right -- if anything goes wrong, it's a great moral crisis
Mir: everything goes wrong -- and we can still cope!
NASA: have taken the adventure out of everything
Mir: the more realistic experiment

Low tech colonies?

Mechanics and technicians are becoming rarer, because most equipment is "fixed" with a black box swap. Morse code and sextants have recently been abandoned. Mid-range tech is useful for developing countries -- and for space colonies. "Obsolete technology fandom -- your future is the stars!" [What about all those people who restore and maintain steam engines?]
Most colonies and base will have old fashioned, reparable, tech. The average scientist doesn't care about the past -- historians might be useful.
Now there are no apprenticeships, there is nothing for bright non-academic technical people to do.

Looking at people chosen to do relief work. Those who were carefully selected often do an adequate job. Those who were sent with misgivings, who were the only option at the choice, but who had a burning desire, were often the most successful.
---
Panel -- Latex Abuse in Babylon 5
Jack Cohen , Morag Kerr, Jane Killick and Kathy Taylor discuss the aliens' physiology
As a vet, I appreciate that someone can put a creature on your table, and you don't know what species it is. Doctors freak if it's non-human! In most SF shows, the doctors are too competent. Xeno-medicine is more like vetenary surgery.
Cross species transmission of disease is not that common -- and they realise that in B5 . But there are some very odd cross species jumps of disease.
The problem with Vulcans is that they can breed with humans. They are much further away from us than, say, our second cousins, the oak trees. But in Star Trek , it is almost de rigeur to have an alien spouse.
The aliens in B5 share the literary device of the foreigners in Shakespeare.
JC: I try to invent "credible" aliens. We all have a set of rules in our heads, like "hyperdrive", that we can use. Now, nearly everyone has "aliens look like us, with a bit of latex on the forehead" -- we use them as "different people to help solve the problem".
In B5, the aliens do tend to ghettoise. Any cross species interest is usually a little weird or kinky. Even the big interspecies love affair required Delenn to be made partially human.
Ponies but people in the stomach; cats 'kneed' humans -- these are both ways that their young encourage milk to flow.
Aliens on TV have to be humanoid, to be played by human actors. TV showing us aliens is restricting our imaginations -- the SFX are much better on the radio! Sector General is great -- "yes, but just you wait if the film comes out".
Universals (occurred more than once in evolution) versus parochials (one offs, so unlikely to be seen in aliens

Universal: Bilateral symmetry; joints and limbs
Parochials: knees and elbows.
Parochial: crossing airway and foodway: aliens won't cough. The blowhole on a dolphin crosses the oesophagus, but doesn't interconnect. Galloping horses breath only through the nose, and their breathing is connected to their stride.
Sex requires doing dangerous things contradictory to most survival behaviour -- "find somewhere private" is probably a universal.
Complicated things like the 6 Centauran reproductive appendages are not totally implausible -- procreation in damselflies has 24 distinct stages.

People who contact JC about aliens now talk about B5 rather than Star Trek .
Relating to non-human intelligences is very exciting, but TV shows don't seem to be able to stop this becoming sexual. But where the biologies are so different, may end up with a purely intellectual relationship. [else "who, and with what, and to whom"?]
Cultural differences:

"Believers": the B5 episode where the alien child dies after surgery.
Heorot: the Grendels -- where the parents eat the young. In the 2nd book, there are intelligent Grendels. One scene that wasn't used, because it was thought too be too strong: a female Grendel brings a dead human baby as a gift.

The scene in the B5 pilot where the doctor treats the Vorlon is totally unbelievable. Having a "blue cell" detector may be neat -- but the Vorlon is not the kind of creature that has blue cells! A later episode, where Franklin has to treat a Soul Hunter, is much better: "his heart rate is increasing -- is that good?"
What killed it? If you don't know the biology, that's going to be very difficult to tell. A healthy stickleback is more than 50% parasites by weight.
Specialist knowledge can ruin enjoyment is strange ways. One geologist can't watch cowboy films: he knows that the ridge they are on must be at least 100 miles from the valley they are looking down into.
What if the "apparent" biology is not that different? Convergently evolved "marsupial meerkats" and true meerkats rip each other to shreds. But extelligent creatures might be able to adapt more easily. [Presumably with wonderful opportunities for misunderstanding further down the line, when differences that have been forgotten suddenly become apparent.]