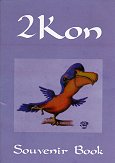 The 51st British Easter Science Fiction Convention
21--24 April 2000, Central Hotel, Glasgow
---
GoHs: Guy Gavriel Kay , Katherine Kurtz, Deborah Turner Harris, John Salthouse.
---
The programme listing was again rather sparse, but again, the quality was high: mostly new items, hardly any items I had seen before, and well-run panels.

On the Friday, getting into an SFnal frame of mind, and not yet being attuned to the Glasgow accent, I through I heard someone in the street saying "Pikachu", when they were in fact selling ... the "Big Issue"!
I've been to Glasgow (home of blue police boxes that acknowledge the Tardis ) and the Central Hotel with its marvellous staircase before -- for the smaller Albacons in '85 and '91 , and for the '95 Worldcon, where it was only one of the many programme areas. It is probably straining the limits for an Eastercon: it could have done with a third large programme room, and with more catering (although it did have the breakfast queuing down to a fine art).
Overheard: "I'm trying to pull Amazon out of the red all by myself."
---
Programme highlights
---
Panel -- What Research? I Write Fiction!
Guy Gavriel Kay , Scott MacMillan, Mark Simmons
Have you ever been jolted out of a good story because of some niggling bit of historical inaccuracy? This panel looks at the importance of doing your research so you can diverge with purpose.
MS: archaeologists get phoned up and asked "what sort of nappy did Egyptian children wear in Akhenaton's time?"
GGK: you need to be grounded in credibility, of character, science, setting, magic -- but research can be a seductive trap

you can confuse the research with the novel -- "undigested research"
having facts and details does not make the reader happier
you need unobtrusive fats that work their way in to the narrative without impeding the flow -- for example, Tom Wolfe's journalistic writing like The Right Stuff is great, but his novels are constantly arrested by lumps of research.

SM: I'm a State Herald of Ireland, but I've never written about Heraldry, because it would be boring, for me.

My background is TV, which need to be visual, can't be held for too long with explanations.
For an episode of Outer Limits , I wanted a character to fire a pistol underwater. Can it be done? I took a gun into a swimming pool. The first bullet hit the side and damaged it -- the second I fired the length, and it went about 15ft.
Of Noel Coward: "How was your flight Mr Coward?" "Have you ever been on an aeroplane?" "Yes." "Did you go anywhere?" "Yes. "Well, it was rather like that!"

GGK: There are libraries and academics to consult for straightforward historical research, but how do you research the relationship between Elves and Dwarfs?

Tolkien researched by inventing. It's important that there's more material background than what appears in the book, to instill reader confidence that "this narrator knows what they are talking about"
I don't need to tell you everything about how people travelled in antiquity. I need to tell you enough to give you that "I can be trusted" feeling

SM: And you can't write enough background to be convincing without some research.

My wife, Katherine Kurtz, has written a book based in Dublin -- even though we've lived in Ireland for 15 years she spent 3 weeks walking around Dublin.
I can drive, but I couldn't write credibly about driving to Istambul, or driving a Formula One racing car.

GGK: but you don't have to learn by doing, you can learn by reading
SM: Read Das Boot to know everything about running a WWII U-boat. A great plot can be readable even if the characters are poor, but if the characters are good yet there is not plot ... well, just look at the winners of literary prizes, then try to read those books!
GGK: the research can bring characters to life. For example, my learning about mosaic art in antiquity influenced the way a character developed -- fingers are always cut, from handling broken glass -- there was conflict between different techniques, which gave a chance for a plausible argument.
GGK: The Internet has changed my research -- not for the details, but for finding the people I can ask
MS: We did some research for Time Team on Mediaeval Christmases -- the food, plants, songs... Then in a briefing the producer says, "well, we've got this boar's head, and we've put up some holly, even though they didn't used to..." Sometimes I wonder why we bother.
SM: I was the technical advisor on US mounted cavalry for the TV mini-series Centennial . I drilled 30 guys on how to ride and dismount properly. But the director said it was wrong, because that's not how John Wayne does it! The scene was edited out of the programme.
MS: The Mummy is marketed in US schools as "authentic"! It's a curious mixture: there is perfect text written on the jars, but the wrong number of jars.
GGK: There is a point of diminishing returns. A production of Pride and Prejudice , in a prestigious Toronto theatre, discovered what women wore at that period, but deliberately didn't use it, because they wanted to make an historical piece that pleased the audience. But they were apologetic about it -- which a TV programme never would be.
SM: they should have researched actor's costumes of the time -- that would have been more appropriate.
MS: to check the authenticity of the costumes -- look at the feet. I saw 300 Frenchmen in armour, all wearing Doc Martens!
SM: Shoe makers often make shoes too small, because they just have an order for 300 pairs, and they can cut back on the materials used and make more profit -- and then the actors end up wearing Doc Martens.
SM: In Braveheart , the decision was "the Scottish guys gotta be in those dress things, else no-one will know they're Scots". Kilts were not worn at the time, the armies would have looked identical -- which would have been just too confusing for any audience.
GGK: sometimes modern sensibilities would be too distracted by historical accuracy -- like the missing or black teeth in beautiful women. It's a trap to show the real dirt and grit, because the characters themselves would have noticed nothing unusual.
SM: movies capitalise on the viewers' inbuilt visual images, and use these for shortcuts or deliberate shocks.
SM: Sometimes you just have to make stuff up. If you want some difficult research: try researching the RUC -- the only police force in the world with an unlisted phone number, and whose PR office won't talk to you.
MS: In a combat scene, you can't use a real sword, even though weight and balance are important, because of the dangers. And if you had an accurate portrayal of a mediaeval battle, the audience would walk out after three minutes, sickened by the bloodshed.
MS: When we see something inaccurate, we are angry because our suspension of disbelief is ruined. Everyone raves about The Engines of God , but it has bad archaeology: when they are trying to rescue the machine that has important writing on it, why don't they just photograph it?! Different things throw different people.
Related material from previous cons:
---
TechnoBabble panel game
Can the panellists tell the difference between science fiction, science, and b******s?
a rerun of the Reconvene game, with some new questions.
"Danger, Kim Stanley. Danger!"
"My [Bugs] scripts got rejected on the grounds that it was too far-fetched."
"It's a quote from the longest running SF TV show." "What, Sky at Night?"
see also: rasfw technobabble thread
---
Martial Arts in SF
Gary Stratmann and Linda Stratmann
Putting an actor in a mask is useful -- the audience can't tell them from the stuntman
The Phantom Menace light sabre duel took a lot of training, and looks spectacular. It's kung fu style stickwork. It was better than the earlier films, because the light sabres didn't shatter during the fight, and were heavy enough that the actors could really lay in with them.
Xena / Hercules -- most of the crew are kung fu experts -- they are very good at what they do, very good at making the stars look good, and they can die well. They can run three steps up a wall -- then fall off, because gravity cheats! We can expect to see our heroes running up walls for years to come.
"kung fu" just means "very good, master".
Most SF uses is Chinese fighting plus Japanese mythology ("not as clumsy as a blaster" -- especially one in the hands of an Imperial Stormtrooper!) because it looks alien to USans.
The Klingon bat'leth is definitely designed for people who drink a lot then go out for a fight. It's quarterstaff style.
Real martial arts is very quick. It has to be slowed down for the screen (except for the sword duel at the beginning of The Seven Samurai [Akira Kurosawa, 1954], and Captain Kronos: Vampire Hunter [Hammer, 1974] has a sword duel lasting about a second).
Screen fighting attacks the weapon, not the person -- lots of twiddling around.
In Babylon 5

The Minbari/Ranger fighting pole is just a staff
The Centauri use a Roman short sword as a duelling weapon -- but the Romans used shields!

No amount of spiritual teaching will save you if the other guy shoots you from 500 paces.
Dr Who has Venusian karate -- Jon Pertwee was taught aikido by the stuntmen, but he had a bad back in reality. Real martial arts involves a lot of being dumped on your ass, being hit, being kicked -- often all at once.
It's cheaper to use martial arts, because there are no blaster FX, no burnt clothing. But Hawk the Slayer [1980] managed to have no fake blood at all!
The Matrix -- starts as kung fu and ends as Hollywood. Trained the actors for three months to fight.
Very few alien martial arts are embedded in the culture. If you are continually fighting wars, new tech replaces old. So in the West, few martial arts survive -- no-one is sure how people really fought with quarterstaffs (though there are a limited number of ways to hit someone with a stick). In the East, they had more time on their hands to develop the arts -- and were not allowed the high tech swords.
The policeman's truncheon -- not a very good weapon, but it has some tradition. Now being replaced by a sidearm baton, itself derived from a Japanese weapon derived from a pipe.
Epee fencing is closer to a practical fighting technique -- can hit opponent anywhere. Foil fencing has a much more limited target.
Military swords and bayonets survive, because you can always run out of ammunition.
A tradition of duelling usually becomes a tradition of non-lethal fighting, otherwise you run out of officers, or whoever, very quickly.
Buffy the Vampire Slayer -- uses kick boxing -- Sarah Michelle Gellar had done it before -- it looks very good on film, because it's slower than punching -- it's easier to choreograph fights.
Anime makes guns a martial arts -- especially two pistols .
All the posing is actually waiting for the other guy to do something -- like blink.
The fencing scene in The Princess Bride is tremendous fun -- traditional swashbuckling spoof style, done extremely well -- but it's not realistic fighting. The Mask of Zorro is extremely good "Hollywood sword fighting". The Oliver Reed version of The Three Musketeers has a lot of hitting people with furniture -- making use of what's available.
The police use horses as weapons, to control crowds. (But horse don't do well on marbles.)
Jackie Chan is an extremely good acrobat. He doesn't fight, rather "plays" with his opponents -- such as grabbing the hand of one, then hitting another with it.
---
John Salthouse -- Son et Lumière
"exothermic chemistry" demonstrations ... or, "Things that go bang. Loudly"
This is such a popular event that, due to the limited size of the main programme room, it needed two sittings!
Liquid oxygen is such a dangerous chemical they won't supply it to pyromaniacs like me. So I have to make my own.
As previously seen at Albacon '91
---
Panel -- The Arthur C Clarke Awards
A panel of past judges discuss this year's shortlist, and decide their choice of winner.
The shortlist for Best Novel is:
First -- how can we ditch some? By weight? Let's just read the light ones!
Neal Stephenson

Let's get rid of Cryptonomicon , because it's not SF
But Clute has it as one of his top five SF of the millennium!
The best bits are the WWII bits -- which aren't SF
And being set in the future does not make a book SF
Let's move on to something else and come back to Cryptonomicon later

Gernsback said SF should be 5% science and 95% romance
Stephen Baxter

Trilogies:

The rumours why Red Mars didn't win was because it was the first in a trilogy, so you couldn't tell yet if it was any good (and the other two parts were rejected because they were also parts of a trilogy)
And Time: Manifold 1 is also the first of a trilogy
The Sparrow won -- yet it has a sequel -- but it does stand alone, whereas Red Mars does not

Stephen Baxter one day has to let his characters stay dead -- he has a real resurrection complex.
We are agreed -- Time has gone

Vernor Vinge

Let's get rid of the Vinge.
It wasn't as bad as I was expecting
A Fire Upon the Deep was great -- this one is stretched too thinly.
I could hear John Wayne lecturing as in True Grit .
I'm astounded it was nominated for the Prometheus Libertarian Award -- despite the fact it's the best argument for Worldwide Military Government since Heinlein's Starship Troopers !
The Vinge is gone.

Bruce Sterling

I'll put the boot into Distraction then. It's like one of those 1960s narrative history books, with little boxed asides about the characters. Three pages of not very good info dumping at a time. Off scene events.
He's got some good ideas, great dialogue, but he doesn't know what he's trying to say, there's no plot. Everything is set up to be inevitable, rather than plausible.
It made me laugh out loud in places, but at the end I hurled it lightly against the wall. The satire on American society was brilliant, but I got tired of it after a while.
With a lot of this shortlist, I get deja vu. Distraction made me think of Stephen Bury's Interface -- but that other was a lot sharper.
The Governor of Louisiana character was a bit unsubtle -- it was just Huey Long dropped in.
It didn't finish in a satisfactory way, no proper closure. Sterling is much better at the short story or novella length. The beginning as a novella would have been much better.
So the Sterling is out.

Kathleen Ann Goonan

Goonan can't write, can she? She writes a chase scene and makes it sound dull and leaden.
I liked it. It had a plot, a beginning, middle and end. It's set in Hawaii, which makes it fun. But it's too long.
It shows a misunderstanding of American political history...
... and of the effect of diet on growth
The ending is resolved by magic. He does some maths in his head, then steps through a portal -- it's a magic spell! He should have used the maths to build a portal, or find out where the portal was. Very Anne McCaffrey .
My big problem is I remember nothing about it. I lost the thread while reading it, and now it's all vanished. Not memorable enough for the ACC award?
I enjoyed it, and it reminded me of Connie Willis -- focussed rather more on the characters than the events -- curiously detached.
Of all the books this is the one with the best characters -- they are real people.
It rested on strings of coincidences -- very little logic structuring it. But because the characters worked, I was interested, and didn't mind the coincidences.
It's not a winner

Justina Robson

I loved bits of Silver Screen . This is the only one who can write .
It's very British -- unlike the other British author, Stephen Baxter, who's trying to be an American writer. Actually, it's very Leeds. Like those other British authors -- Jeff Noon, Ken MacLeod , Simon Ings -- they all have a sense of place, of culture. Parts reminded me of a redeveloped Docklands -- very vivid images.
I really enjoyed it, but I don't think it's that great -- the plot is so simple, I can't describe it without giving it away. It's a who/whydunnit -- although at the end we know who but not why -- a rereading might make the why clearer.
It makes me want to read her next book.
There are lots of really great parts, but the integration isn't done all that well.
It doesn't have a "happy ever after" -- a character is traumatised and stays traumatised.
The characters work really well -- you believe in them. The bulemia is handled well -- the sufferer can control it but it's not going away -- the character is only "in control", not some laid-back perfect heroine.
I think it's flawed, but it is so great in places, and you want to jump up and down and say "read this". Unlike all the others. It's not overwritten -- just a single narrative with a couple of flashbacks. I think it's a winner. The problems are with integrating the pieces, not with the necessity of those pieces -- it all belongs in there. Modern 400 page novels are often two 200 page novels that the author seems to have dropped and shuffled the pages together.

Neal Stephenson

Cryptonomicon is physically difficult to read, it's so heavy! And so complicated: I was having to keep notes!
I got really bored with it -- even though I was really looking forward to it. I kept putting it down. I only got about half way through, then I finished off by skipping the modern bits.

So you missed the five pages on how to eat cereal?
And the riff on the cultural study of beers was great!
I've just heard an academic paper on the iMac advert just like that!

There are some good bits

Lots of these have a theme of cryptography -- and of alienated children
I think Cryptonomicon will win, and it's the wrong winner. If it wins, it will be a scandal -- but the ACC award is no stranger to scandal!
The BSFA shortlist [ Eugene Byrne ThigMOO , Justina Robson Silver Screen , Mary Doria Russell Children of God , Simon Ings Headlong , Ken MacLeod The Sky Road ] is much better than this one.
Silver Screen is the best on this list. If you wave Cryptonomicon around as best SF (if you can wave it around!) people will look at you strangely -- the best bits are the historical bits.
Let's vote: Cryptonomicon -- zero. Silver Screen -- all
How many of the audience have read either? [about 4 had read one, another 4 the other]
Silver Screen is good old fashioned SF with modern techy things, chases, and a plot. And characters!
The ACC award panel is supposed to read each entry a second time (after it is shortlisted) -- and base the award on second impressions. (Sometimes on reading a book a second time, we wonder why we shortlisted it.) Will anyone be able to read Cryptonomicon a second time?
So, we've got a hypothetical winner -- but then we were wrong last year! Whether it wins or not, Silver Screen is something we would recommend.
[ Distraction won the ACC award]
---
Katherine Kurtz -- GoH interview
Author website at www.deryni.net
Codex due to be published soon -- the author saw my notebooks on the characters
British publishers didn't push the series, so it went out of print. Currently available only as US imports
I love writing stories involving the Templars. As an historian, that Holy Blood and Holy Grail stuff really annoys me.
I've fallen in love with Dublin. I had a lovely excuse for poking around odd corners of the city -- I was doing research! It's a Gargoyle story. The rot set in in Georgian times when they stopped putting gargoyles on buildings.
How did you feel when Gwynedd became the name of a real county?

If I was doing it over, I probably wouldn't use a real historical name. When I first visited Wales, after writing the first book, it was lovely, but it didn't speak to me in an emotional way. But when I crossed the border into Scotland, I felt I had come home.

"deryni" is from the same root word as "druid" and "oak", from the Welsh. It's pronounced der- rin -ee, but deh -rin-ee is an okay second pronunciation.
Part of the fun of writing a saga series, as an historian, is getting intrigued by the historical flow. I personally am not intrigued by prehistory, or the Continent, and prefer to stay in these Isles. My next book about Joan of Arc meant I had to learn more French history than I really wanted to know.
---
Masquerade
---
Guy Gavriel Kay