Seacon'03: Eastercon 2003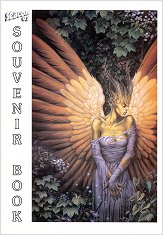 The 54th British Easter Science Fiction Convention
18--21 April 2003, Hanover International Hotel, Hinckley
---
GoHs: Mary Gentle (unable to attend due to work commitments), Chris Evans , Fangorn (Chris Baker).
---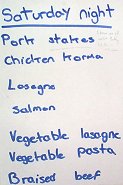 The second Eastercon in the bizarre, but friendly, Hanover Hinckley . The facilities were again excellent: good function room space, friendly staff, and continuous food: the lunch and dinner menu this time varied from day to day, and even had some surprising items [the graffiti reads: I know we all watch Buffy, but this is ridiculous! ]. The mushrooms were again in plentiful supply. What is it with Eastercons and breakfast mushrooms? One speculation: "I'm eating as far from my species as possible".
One of the serendipitous moments was catching a bunch of Dr Who clips brilliantly edited together to Bonnie Tyler's rendition of Total Eclipse of the Heart .
---
Programme highlights
---

Nigel Furlong -- Thunderbirds are Go!
On disaster management and the real International Rescue
International Rescue Corps

A UN registered disaster charity

rescue people from earthquakes, flooding, ...
in tropical countries, have only 24 hours to rescue people, because of heat dehydration
Colchester was flattened by an earthquake 150 years ago

US 9/11 disaster

there are 258 urban search and rescue teams in the US, all but one ended up in NY -- what if something else had happened at the same time?
US constitution forbids calling in help from "foreign powers" -- EU and UN will not send help unless invited -- required creative memo drafting

UK firefighters also help
Lowland search and rescue teams -- look for missing people -- descended form disbanded civil defence units
Disaster management

what's the worst thing that you could do -- sabotage/terrorism

business continuity
nuclear industry has plans for being hit by a 767 -- used to be thought too low a risk for skyscraper plans

US "flew" an F4 phantom with a full bomb load into a block of concrete the same thickness as a nuclear containment

the plane disintegrated, the wall had to be repainted

nuclear reactor have very deep foundations, because of earthquake risk

Rutherford Appleton laser synchrotron, ~2000m foundations, for stability

nuclear sites have annual "level 1 incident" practice exercises

the best everyday manager is not necessarily the best disaster manager
What about a bio-disaster, eg SARS?

Smallpox -- the last UK outbreak, more people died from the vaccine (a few) than from the disease

kills less than a third of the people who get it
trace and vaccinate contacts -- trace train passengers via credit cards
medics have more power than police to put people away

a pinhead of ricin could kill everyone in this room -- but only if I put it on a pin and stab everyone! -- diluted it's harmless
The Japanese nerve gas attack

the group had previously dropped 5kg of anthrax-contaminated powder -- no-one got sick
they has also sprayed a US base with botulinus -- no-one got sick
all the showering and handwashing nowadays helps stop the spread

so its not a massive risk -- the risk analysis has been done
the most dangerous part of a "dirty bomb" is the explosive
building a nuclear weapon -- it's not the science, it's the engineering

most of the nuclear transactions in the ex-SU are customs officers and journalists, with not a criminal in sight!
---

Panel -- Milestones in 20th Century TV and film
Steve Green, Tony Berry, Judith Proctor, Dave Lally
[This panel worked well, because the discipline of keeping to the decades stopped it degenerating too quickly into "name your favorite show"]
1903 -- Le Voyage dans la Lune -- Georges Méliès

most films then were 2--3 minutes -- it was 20 minutes, with a plot
many early films were SF/fantasy, playing with a new medium
Edison made pirate copies

1925 -- Metropolis -- Fritz Lang

political SF -- visually superb -- crap script
new DVD has longest existing cut -- not necessarily the best cut
Hitler was so impressed he asked Lang to direct propaganda films -- Lang instead went to the US

1936 -- Things to Come -- Alexander Korda

probably a better film than the book -- but H. G. Wells did have a big input
science versus humankind -- all wearing bathrobes in the future!
many things became instant cliches

1940s -- nothing! -- well, there was a war on

many Saturday morning series, but no major films
comic strip spinoffs, lots of horror films
1942 -- Went the Day Well?

Graham Greene script
remarkable propaganda film -- set in context of a flashback after the war had been won

1946 -- A Matter of Life and Death -- Powell and Pressburger

1950 -- Destination Moon -- George Pal

from a Heinlein story -- in a ponderous documentary style
rocket looks like a V2 -- used Hermann Oberth as a consultant
Chesley Bonestall did the moon scenes
didn't have a big effect on Hollywood

1951 -- The Day the Earth Stood Still

there were many Red Scare films, like Them!
this had a peaceful message -- the Korean War was still on
also a resurrection story
Farewell to the Master -- Gort (the robot) was the boss

1956 -- Forbidden Planet

(semi-)serious -- starred Walter Pidgeon as Morbius
cost $2M -- a huge amount of money
the big machine was ripped off by B5 -- lots of homages in B5
Robbie the Robot -- the beginning of the friendly cuddly robots
plot nicked from Shakespeare -- The Tempest

1956 -- Invasion of the Body Snatchers
1968 -- 2001 -- Stanley Kubrick

same year as Planet of the Apes , and Night of the Living Dead
travesty -- PotA got the SFX Oscar for its apes, but 2001 's apes are better
bomb/takeover films

Fail Safe (1964), Dr Strangelove (1963), Seven Days in May (1964)
The Manchurian Candidate (1962) -- political SF
The Birds (1963)
The Wargame -- TV film commissioned by BBC, then banned because so shocking

1977 -- Star Wars -- George Lucas

an SF classic -- blatant application of classical myths
the big difference between the first and second trilogies is the target audience

episodes IV--VI : late teens
episodes I--III : 8-9 year olds who want to buy the merchandising

merchandising is a milestone in itself -- it can come out before the film

very little early 1970s SF

Logan's Run (1976)
Michael Crichton : The Andromeda Strain (1970), Westworld (1973), ...
1971 -- A Clockwork Orange , Silent Running , The Omega Man
No Blade of Grass (1970), Death Line -- "mind the gap"!
Soylent Green (1973), The Stepford Wives (1974)
Zardoz (1973) -- Sean Connery in an nappy!
Dark Star (1974) -- $6000 -- very young John Carpenter
The Man Who Fell to Earth (1976) -- very close to the Walter Tevis book
CE3K -- Close Encounters of the Third Kind (1977)

1980s

1982 -- E.T. -- Steven Spielberg
1982 -- Bladerunner -- Ridley Scott

very impressive film -- directors cut, not the "happy ending" one
has influenced look of films and adverts ever since

Alien (1979) and Aliens (1986)

after that, Sigourney Weaver was getting paid more and more for worse and worse episodes

Mad Max (1979), Mad Max 2 (1981)

all these films are influential in the wrong way

1985 -- Brazil -- Terry Gilliam
Cocoon (1985) -- it's so nice! -- The Terminator (1984)

1990s

12 Monkeys (1995)
what's so new is the SFX -- a major part of the film in Terminator 2 (1991), X-Men (2000), etc
Galaxy Quest (1999) -- a wonderful spoof
The Matrix (1999)

influenced fight scenes -- especially later Buffy -- wire work hadn't been so well known in the west before

Being John Malkovich
Radio

1930s -- War of the Worlds
1950s -- Journey into Space
1970s -- Hitch Hikers Guide to the Galaxy
1950s TV

1953--59 -- Quatermass series -- Nigel Kneale

proper SF -- taken seriously -- very scary -- everyone watched it

1954 -- 1984 -- Peter Cushing -- caused questions in the House, it was so brutal
1949--55 -- Captain Video
1959--64 -- The Twilight Zone
Flash Gordon

1960s

1960 -- Pathfinders
1961 -- A for Andromeda -- the BBC wiped most of it
Irene Shubik -- 1962 -- Out of this World -- commissioned series of one hour plays -- then 1965--71 -- Out of the Unknown
1965--68 -- Lost in Space
1966--69 (1969--71 in UK) -- Star Trek -- seriously groundbreaking, but not successful until syndication
1968 -- The Year of the Sex Olympics -- Nigel Kneale

1970s

1970--72 -- Doomwatch -- primetime adult show
1972 -- The Stone Tape -- Nigel Kneale
Clangers / Dr Who crossover moment -- in "Sea Devils" the Master is watching an episode of the Clangers!
1973 -- Moonbase 3

Gerry Anderson

1961--62 -- Supercar , 1962--63 -- Fireball XL-5
1967--68 -- Captain Scarlet -- very violent -- every show someone had to die
Supermarionation was a milestone -- write to the Honors Committee, for a knighthood for Gerry Anderson
1970--73 -- UFO -- superb shows -- some episodes dealt with such adult themes they had only late night airings

was replaced by the awful Space 1999 (1975--77) -- a landmark for putting people off!

1975--77 -- Survivors -- Terry Nation

typically British -- bleak, pessimist -- until it because "Life on the Farm"
today we have SARS -- the common cold with attitude

1980s

1980 -- The Flipside of Dominick Hyde
1981 -- The Day of the Triffids
1985 -- Edge of Darkness
1987 -- Star Cops -- nice little show -- solutions to the crimes required knowledge of science
1988--93 -- Red Dwarf -- SF or sit com? -- it got more SFnal as it went on
1989 (UK terrestrial TV, 1995) -- Alien Nation -- Rockne O'Bannon
Crime Traveller -- the nadir of TV SF

1990s

10th anniversary of Babylon 5

much harder and dirtier than the ST universe
influenced by C. J. Cherryh 's Downbelow Station
JMS put in lots of in-jokes -- like the "be seeing you" Prisoner hand sign

1998 -- Ultraviolet -- a cracking show
1998 -- Invasion: Earth -- in one sitting it made some kind of sense -- it could have been saved by good writing
1999 -- The Last Train -- it's not SF, it's a realistic train journey!
Gormenghast -- after watching it, I know why I found it unreadable
---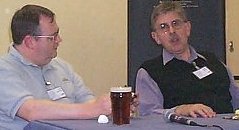 Eastercon Anecdotes
Pat McMurray, Peter Weston
1964 -- my first Eastercon, and Rog Peyton's -- in Peterborough -- it had no name until a month later, when someone realised that, as it was the 2nd Peterborough con, it should be called Repetercon!

small hotel -- the Bull -- ~ 150 fans
one stream program -- when it stopped, Ken opened the bookroom, and we all bought books off Ken -- when he said stop, we all went to the bar

PMcM -- 1993 -- Helicon -- my first con

I didn't know anyone, so I volunteered -- been downhill ever since!
Ted Tubb

was a split personality -- on the one hand he was this author -- on the other he was this lunatic -- he was manic depressive -- when he was down you would want to slit your wrists -- but he was always high at cons
at one con he was going to sacrifice all the virgins at a "Hum and Sway" party

you sit in concentric circles, link arms, have a swig of drink, put out the lights, be quiet (the Americans find this bit hard), then all hum and sway!
1994 : Sou'wester -- was to be in Bristol -- but the hotel manager found out -- so ended up in Liverpool

In 1971 I told the manager it was a literary convention
1996 : Evolution -- was going to be in Brighton, but ended up at the Radison

1975 -- original Seacon -- were sure we could get a hotel by the sea -- ended up in Coventry -- as soon as you call a con Seacon, it will automatically be as far from the sea as possible [except in 1984 ]

so this is Seacon'03, because we are as far from the sea as you can get!
the 1975 bid was put together the night before the bid session, because the only other alternative was Manchester, and Manchester is always a disaster!
but in 1975 they put another Manchester bid together for 1976 -- a travesty of a con

Owen's Park Halls of Residence -- horrible, like a refugee camp!
The bar had iron tables and steel chairs -- built to be hosed out
communal bathrooms
like a terrible Greyhound Bus station -- cheap, miserable, shambolic

it could have been worse -- one gang wanted to do it in tents!

Robert Silverberg was GoH -- they drove him up from Heathrow in the back of a plumber's van
1970 -- the only con to rival Owen's Park for real disaster

run by George Hay -- nice chap, but created new projects every fortnight -- attention span of a gnat -- "well meaning" -- SF Foundation only real success
Royal Hotel, Bloomsbury -- demolished 3 months after the con -- under sentence of death at the time -- staff couldn't give a damn -- manager wasn't aware the con would happen
no SF on the program!
the film screen was pieces of paper tacked to the wall
bar closed at 10pm -- after which had to queue at the "trapdoor", for warm brown ale
so hideous that Rog Peyton and PW knew could do better -- bid for 1971
but it makes for good stories!
PMcM -- it's a really bad idea to try to run a con on your own -- I tried it for 1996 Evolution with a very inexperienced crew

[the audience agreed it was a good con -- if opinion on the hotel was spilt]
1991 : Speculation -- Glasgow -- Hospitality Inn -- soon redubbed "Hostility Inn"

you must get the right hotel

they are used to dealing with businessmen in suits swigging G&Ts, not scruffy fen drinking beer -- businessmen behave worse
you shouldn't try to kid the management -- tell them fen look funny, but spend a lot on drink, and won't smash the place up

Reconvene -- Adelphi -- black and gold name badges, each with a different motto -- too complex -- Keep it Simple -- and use a large font

horrible tradition in the 1980s of con security squads checking name badges

that's why nowadays calling it "security" is frowned on
anyone who wants to work in security shouldn't be allowed to
The 1963 Eastercon Programme Book explained things : "badges aren't about security, they're about friendship" -- enabling fen to recognise one other

1991 Speculation -- the two main programme rooms had the same name ... but never at the same time, you understand...
As well as a good hotel, you need a good programme -- even though not everyone goes to it, it creates intellectual churn -- that was 2Kon 's key failure. [Well, I liked it...]
1966: Yarmouth -- crummy hotel -- large manager dubbed "Landeburger Gessler" (from William Tell ) -- non-fannish guests -- Ted Tubb in manic phase formed a conga line of chanting fans clinking bottles -- was chased by the manager, up onto the roof, chucking bricks down chimneys belonging to fans rooms

can't do this now -- the roofs are hermetically sealed -- we're in the future now

but where are the flying cars?
SF fandom is an anarchy, no central organisation, lurching from disaster to disaster -- no-one learns form the past -- but every Easter we have a good time -- almost every Easter for the last 40 years, I can remember where I've been!
---

Alan Kobayashi -- From Star Fleet to Earth Force
worked on
In B5, there weren't many closeups of hands, etc so a lot of the graphic design details got lost
got a chance to meet Majel Barrett -- she was very nice, and please to be working on B5
B5 was willing to put a lot of people in background shots -- sometimes up to ~100
there were lots of posters and things on the walls, but most shots were along the corridors -- so most were never in shot
B5 was shot in an old warehouse -- very low ceiling -- the air conditioning could cool only one of three sets at a time, so setting up was always very hot
riot police uniforms -- used surplus East German police helmets
lots of WWII-style posters -- SF is what you can get from war surplus catalogues!
lots of props are hired from prop companies, and do the rounds -- a prop from Buckeroo Banzai shows up in one B5 shot
X Files is so complex, it has two art directors, working on alternate shows
Macintosh, Adobe Illustrator, PhotoShop

no graphics table, just a mouse -- I'm very old-fashioned!
---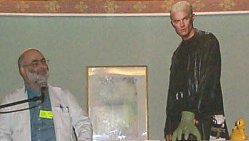 Julian Headlong -- I Am Spike's Liver
On haematopoiesis and poetry, Vampire biochemistry and quantum wibble
previous talks

I am Spock's Liver -- Vulcan biochemistry
How the Black Hole at the centre of the galaxy caused the Russian Revolution
Torturing Babies for Fun and Profit
so, for a talk on how Vampires work -- the title wrote itself!
vampires made fashionable Victorian stories -- spread of incurable diseases, and rabies

drawing on older legends, folklore of exotic diseases

acute intermittent porphyria -- George III -- hereditary
congenital erythropoietic porphyria -- Gunther's disease -- 1 in 30 million -- mutation that can occur anywhere -- so everyone has vampire legends
other disease subsumed -- rabies
vampire bats

resurgence in recent times parallels new incurable STDs, AIDS
classification system

UK -- by physiology
US -- by firepower
Europe -- by style
China -- hopping or non-hopping
they are all poikilotherms -- cold-blooded killers

type I -- humans with a quirk -- Goths -- wannabes
type II -- biological -- subspecies living with humans

drink blood -- strong hypnotic gaze -- don't like sunlight -- allergic to silver or garlic

type III -- technical creations -- nanotech, etc

shapeshift with conservation of mass -- super powers -- can infect others to produce new vampires -- fall into dust as nanites lose cohesion

type IV -- strong quantum wibble

no body at all, appear in perception of humans -- don't appear in mirrors, photos, telephones -- feed off psychic energy -- an energy state that can be destroyed by UV and 13 C

type V -- weird demon shit

magical -- made by being bitten, or a rite -- variants include the Stoker, the Rice, the Somtow, and the Whedon -- need blood -- some need to sleep in their coffin -- don't like holy water, silver bullets, depleted uranium anti-tank rounds, ... -- some can turn into bats, and to hell with conservation of mass -- need to be invited in the first time -- can heal from any wound except decapitation or staking -- don't need to breathe
Whedon subspecies

can't shapeshift apart from the scary face (except for one episode of a Stoker crossover )
strong, fast, super senses
can survive on stored animal blood
don't breathe, but can give mouth to mouth -- the one who said it's impossible was lying, because he didn't know how to do it
they bleed when cut, so their blood must circulate -- but their heart doesn't beat -- the demon moves the blood!
too much iron from drinking all that blood would lead to haemochromatosis [bronze diabetes] and liver failure
can become intoxicated and hungover, so dehydrated, so kidneys still work
powered by demon-catalysed very very old fusion of the Deuterium in the blood -- explains overclocked muscles
question and answer session -- remember, I have to make this up as I go along!
cold fusion -- where does all the He go -- why no squeaky voices?

it goes into very bad English and Irish accents

is this how the floating/flying vampires work?
small fusion explosions explain the hopping vampires
what is the effect of vampires on global warming?

they don't breathe, so don't produce CO 2 -- they're a carbon sink -- with enough of them, could reverse global warming
but when you dust one, all the carbon is released again -- Buffy is causing global warming!
a FTL comms system based on instant transmission of Slayerhood

set up array of future Slayers, encoded as 1s and 0s, and kill them in the right order for the message
---

Panel -- Milestones in 20th Century comics
Steve Lawson, Fangorn, Julian Headlong, Gary Wilkinson, Malcolm Davies
started in the 1940s

before that, was really only things like Little Nemo -- very little fantasy of SFnal comics
then it was the Golden Age, followed by the Silver Age, and has been downhill ever since!
Look and Learn had the Trigan Empire

My favorite is Sandman -- it's sophisticated -- incorporates a lot of DC heroes in very odd ways
My favorite author is Don McGregor

I used to buy about 16 titles a month -- kids couldn't afford to do that now

I don't buy comics for the characters any more, but for the authors -- my favorite is Alan Moore -- or the artists -- so I have lots of broken runs!
We read all the girls' comics, too -- Bunty , Judy , etc -- there wasn't enough to read!

Misty was all supernatural stuff

A new comic would get more sales -- so lots of new releases -- merge titles once sales started dropping off
There's a lot more choice now -- don't run out of stuff to read

90% crap -- used to read it all , because not enough stuff -- now can pick and choose, especially if you go by author/artist
I still manage a book a day, but there are 3000 SF/fantasy titles published per year in the US

for the price of a couple of comics, I can buy a book -- can read a comic in ~10 minutes -- books last longer

if I want to read, I'll buy a book -- I'll buy a comic for the way it looks
they're ideal for taking to the loo!

Everyone draws the same now

used to be able to identify artists by their style
it's less distinctive -- like pop music!
more distinctive at the highbrow end
more of a manufatured commodity -- more commercial pressure -- have to draw more

a good artist can do ~ a page a day

We're in a recession after the 90s boom -- there were 100s of X-Men titles a month
French/Belgian comics are a very separate market

publishing cycle -- one large book every year or so -- doesn't translate to US marketing style
Asterix in Italian has better jokes than in French!
in Europe, comic books are intermingled with novels on the shop shelves -- also available in libraries

Internet comics -- are they really comics?

can get more adventurous formats -- can do things you couldn't (or shouldn't!) do if published
I can't follow it on the screen
can't make it pay

There is nothing being done today that Herriman didn't do with Krazy Kat in the 1920s -- drugs, animation, noir, ...

It doesn't need to be innovative, it just needs to be good
Watchman has very simple layout -- but it's good

the movie of the graphic novel of the card game of the toy of the...
---

The 4th Science Fiction Foundation George Hay Memorial Science Lecture
my approach is tediously conservative, but leads to some exciting possibilities
outer space could be teeming with life -- all the basic chemistry is available -- but there may be some major difficulties
almost everything I will say is controversial -- and is wrong!
what are the basic building blocks?

carbon is the only alternative
silicon looks like an alternative -- but is actually deeply unfavorable

let's look at our own life -- it's very peculiar in ways we are only beginning to realise

DNA double helix -- one of the most peculiar, bizarre molecules -- alternatives to DNA are mostly disasters
leads to idea there are no alternatives -- may be a universal biochemistry
what about rerunning the tape of life (as in Wonderful Life ) -- it would be very different -- or would it?

we can rerun the tape on bacteria in the lab -- suggests there are real trajectories to life

it's difficult to imagine any major design in biology that hasn't evolved
Fortey -- Life: an Unauthorised Biography

suggests an unexploited eco-role, in the stratosphere, of large floating bladders -- bladders are uncontraversial, they exist -- making hydrogen is simple -- but they don't exist, because there is nothing for them to eat, on an Earth-like planet

evolutionary convergence -- a constraint on aliens

two kinds of sabre-toothed cat -- one a placental mammal, one a marsupial -- more closely related to hedgehogs and wombats than each other!

some kind of "sabre-tooth space" in which evolution navigates? are there other kinds of spaces?

eyes

transparent tissue and conversion of light to electricity both evolved billions of years before eyes -- why didn't eyes evolve earlier ?
our eye -- camera construction -- squid eye almost indistinguishable -- most famous convergence -- also there are important differences, which show they came from different trajectories

camera eye evolved independently ~ 7 times, along with agility, intelligence, predation

compound eyes of insects -- pack many lenses together to collect lots of light, so arranged in a hemisphere -- minimum size to a lens means upper limit to total size

we would need a compound eye more than a metre across to have the same acuity
so aliens will have camera eyes , not compound eyes

star-nosed mole

tentacles very sensitive to touch -- but neurobiology produces an equivalent of vision
different sense modalities arrive at similar mental maps
electric fields used by fish to navigate and communicate

several unrelated fish have virtually identical systems -- large brains to process its electrical world -- strange sensory modalities, but deeper seated commonalities

hearing, smell -- convergent in invertebrates and vertebrates
what if, 65M years ago, there had been no asteroid impact?

Ice Ages are inevitable -- so 20M years ago the ice would have favoured warm blooded birds and mammals -- the dinosaurs would have lived only in the tropics -- then hunting would have wiped them out -- so climate has no effect in the long term

some reptiles don't lay eggs -- give birth to live young -- some even have placentas! -- when it gets cold

birds -- vocalisation, tool making

New Caledonian Crow tool making is in advance of chimps
New Zealand -- devoid of natural mammals, but has birds

Kiwi -- honorary mammal -- feathers turning to fur, lives in burrows, nocturnal, ...
is there a trajectory called "mammalness"?

human brain -- trajectory that lead to it over 5M years is astonishing -- but not unique

there are dolphin parallels -- humans overtook dolphins only 1M years ago -- dolphin brain size increased ~20M years ago

radically different brains -- but strangely convergent -- rich social life

dolphins live in fission/fusion societies of ~100 -- similar to chimps
sperm whales -- intensely social matriarchal lines -- similar to elephants

so basic structures likely to emerge here -- why not elsewhere?

once you've reached a certain level of complexity, things that might seem impossible become almost inevitable

Neanderthals -- cultural efflorescence -- necklaces, etc
Fermi paradox

we may be alone
if not -- we should be very careful

honey bee and stingless bee -- convergent social systems -- there were other systems, possibly driven to extinction by this more efficient one -- could happen to us!

Extra-solar planets -- many of them

Ward, Brownlee: Rare Earth -- need a planet of just about the right size, with a large moon, volatiles initially resupplied by comets, which later diminish because of Jupiter

we are inevitable , but Earth may be the only place we could evolve
implications of being alone

advanced animal societies -- esp communication and singing -- need more study -- may be underlying universal music
take animal mentalities more seriously -- there are large groups of animals on the threshold of humanity
we are fouling up the world -- this is biologically as well as morally wrong

So -- if the telephone rings, we shouldn't pick it up. But in my view, it will never ring.
to what extent would different environments put different constraints on animals?

if you make the Earth even only slightly bigger, get substantially higher gravity -- and it's already cripplingly high -- make it smaller -- lose the atmosphere
some people argue that the big birds/flying dinos could not have evolved unless gravity was weaker -- but the physicists don't like this
fourth power law on fluid flow, viscosity at low Reynolds number, act as invariants
maybe a failure of imagination -- but these parameters do box in the possibilities

what's your view of the Drake equation?

Drake and SETI are driven by a "religious conviction" in the existence of aliens -- they know they are there -- nothing wrong with that -- there should be several hundred civilisations
Webb: Where Is Everybody?: Fifty Solutions to Fermi's Paradox -- but none of them really add up

is there a curiosity factor missing from the equation?

many animals, even ants, are capable of building a mental model of their environment -- curiosity/playfulness seems to be recurrent

Jack Cohen 's universals?

I'm starting from the same place, but saying that things that have evolved more than once are the only things that are possible -- you tell me something that is genuinely unique -- I mean general biological properties, not nitty gritty disectional details
the wheel -- it's evolved in bacterial, and there are strong arguments against large ones
lots of differences in details, but general principles are convergent
could we do a nervous system any other way? it must be electrical to be fast enough -- potassium and calcium are already taken up, so that leaves sodium -- sodium channels have evolved more than once

what about bipeds?

we need hands, or tentacles
bipedality is relatively unusual -- about 6M years ago the Tuscany ape became bipedal -- on an island with no predators

you're assuming tetrapods?

don't have an answer to that -- necks evolved independently -- there is a group moving towards limbs independently of the ones that did get limbs
there may be unique bottlenecks, entirely contingent on some event -- but there are lots of convergences

are there any convergences that "stop", that don't go all the way?

specialists get uptight about the difference between parallel and convergent evolution -- depends on the common ancestor, but it's not really important
in any one diversification, convergence is rampant

cladists regard convergence as an offence to their system!
as soon as you find an adaptive zone, it is explored extensively
get waves of diversification, run out of things to do -- homoplasty [similar structure without common origin] becomes an increasing problem -- there do seem to be trajectories/regions to explore

what are your views on artificial life?

I can answer from an area of invincible ignorance!
AI to date is a stunning failure-- asking the wrong questions
finding the Easter Island of possible life in an ocean of maladaptiveness

how to produce that complexity in such a short time, ~ 10 180 proteins
need to get the underlying framework to manifest, else will never find it -- phase space too vast
navigation metaphor

the people doing this are very intelligent, and far from the biologists

in comparison with the beauty and fluidity of living organisms, it's very sterile -- there's no magic
there may be deep properties of biological organisms that only become apparent from such studies

with convergent evolution, to what extent are the genetic similar?

there is a good deal of molecular convergence -- molecular toolkits
the eye isn't convergent merely because all use PAK6 -- that is also used for noses, brains, pancreas -- and sometimes something else is used for eyes

genes are switches -- they don't "do" anything

what is similar, what is different? -- story is just taking off
---
Interview
third novel, Natural History , published yesterday
Silver Screen is the least bleak one -- people do get out of it alive!

I'm not longer sure AI is possible -- in SS I imagined it would have to evolve itself -- it might have to decide to delete some of its memories -- how to make artificial experiences meaningful, know the significance of events

when I'm writing, I consciously think about these things

but talking about it here, it's as if I'm thinking about them for the first time -- it's the first time I've talked about these things

when you see an apple, how do you recognise it as an apple? -- it depends on who you are, its significance to you, your senses, being an animal, ...
I like to imagine what it would be like to be somewhere so very different, what it would do to you

before he got into fixed wing flight, ??? was thinking of "individual Zeppelins " (a precursor to flying cars!) -- he had one himself -- that's a future that can now never happen, because it didn't happen.
I can see ashtrays outliving smoking, because they are useful -- little pots to put things in
antimacassars survived macassar hair oil by a century -- and now hair gel has come back!

Mappa Mundi is a technothriller -- I didn't intend that structure -- first person view didn't work, it had to be a thriller to work

my entire experience of journalists/secret agents is from fiction -- even real life ones get filtered through fictional cliches

Can literature affect you? If you've decided to be a powerful person, can you read Jude the Obscure and not just say "what a waster"? Can you ever understand someone like that?
I love the West Wing -- if only real politicians could be so educated and erudite -- I'd love to have a job like that -- I think WW should stay, because people would think that's what it should be like, and then we'd get people like that.

but my mother had a fantasy about university life -- wonderful and mind expanding -- she was disillusioned when she got there and found it wasn't like that
writers can't be held responsible, because what people take from the work isn't what the writer wanted, or even put in

I wanted to explain the science in Mappa Mundi , but it would have taken reams, and been dull

technology has an ethical dimension -- but often the ethical dimension comes down to saying "no, don't do that"
my grandmother has a lobotomy -- done to her by people who really believed it was in her best interest

Natural History -- I set out to write all those fun bits of SF I'd never done before -- but then some other things became inevitable -- ended up a deeply sad novel -- all the characters are very lonely -- use VR as a crutch, totally necessary, to be a social animal

there's a lot of circular reasoning about -- inability to think critically, to think things through -- I came across a lot of that at university -- it put me off politics entirely
now working on something in the future of NH -- same aliens -- not so much of a romp, though
are you going to continue writing short stories?

I write them on request, mainly -- they are quite hard to do

how do you plan the structure?

I write a first draft without a plan, then see what it looks like, and impose a structure
the grammar of the story tells you what's going to happen -- the only reason to continue reading, esp in short stories, it to find out the particular route taken -- the more structure, the harder to break out, and when you do, you end up disappointing the reader -- I find it easier to break out with long stories than short
M. John Harrison wrote Light so that no-one can read The Ship Who Sang with a clear conscious -- when I read tSwS , at 14, I thought it was great -- I've never read it since, because I don't want to change that feeling
I'm shaped by Anne McCaffrey, Asimov 's robots, and Tanith Lee
Dragonflight was girls and horses, and I waned it to be darker -- it became a domestic soap opera -- also huge denial of the fact that the relationship with the dragons is sexual -- dodges the ball -- I found it difficult to read Light -- all the characters are so horrible -- but Mike doesn't dodge the ball -- but deeply uncomfortable -- maybe that's why McCaffrey didn't go there -- she wanted the innocence, wanted it to last forever

why "I, Robot"?

I chose it because of the cover and title -- I was an only child -- I came to identify with the robots -- I was becoming aware of how little you know of others' internal lives -- humans are very good readers, and also very good liars -- it's rare you are ever so genuinely interested in someone that you can pay attention to what they are really about -- it's much easier in fiction
---

GoH talk -- Fangorn on Art
Chris Baker
mostly book covers

Myth series, Red Wall series
2 graphic novels -- which gave the film contact
haven't done much painting since the films

I stopped the cute dragons after I overheard a comment at an Art Auction
don't do much computer art

acrylics are like painting with jam

I like doing wings, and mice

pre-Raphelite inspiration
all your characters are white; do you have a preference?
how much do you plan a picture?

I usually just wing it -- I don't have a problem with "over doing" a picture; I'm too lazy! -- I don't put in as much detail as I used to; the brushwork now flows more freely
---

Panel -- Not Just the Bookjackets: the wider use of SF art
Pete Young, Steve Jeffrey, Colin Langeveld, Dave Hardy
"Uncle Saddam's Shag Palace" -- article in the Times -- loads of SF/fantasy paintings and book covers discovered

Iraqi Minister for Acquisition of Fantasy Art arrested by US
new report rather disparaging to art world -- "juvenile", "kitsch", ...
would the same comments have been made if these had been discovered in Paul Getty's attic? (probably yes)
but if you copy them and paint by numbers, you get a Turner Prize! (of Glen Brown's version of a Tony Roberts cover)
some people think a sheep with its arse ripped out is art

if the art was separate from the literature, would it get the same "juvenile" comments -- or would it be seen as a descendent of pre-Raphelite, of technical illustration, etc?

Chesley Bonestall etc were doing art in magazines in the 50s -- influenced American moon race -- dream that the engineers built on
pulp cover image -- being rediscovered ironically by small presses
the literature has improved over the decades -- has the art been raised in the same way?

CL -- one of my pictures is in the art show, and Mr Hardy gave me a good bollocking -- that moon can't look like that!

have the materials made a difference?

we have digital art -- thank goodness for Poser, Brice, Photoshop
at the last Eastercon I sold one painting -- 80% of stuff there was digital
takes time to paint a picture -- is the labour worth it?
digital is just another tool -- need to learn knowledge for shadowing, etc

some people say the airbrush isn't really art
it really speeds up the process
I really enjoy it -- it's a whole new way of working -- I love the Mac

I've dabbled with Brice/Photoshop and I find it really hard -- it's harder than using a pencil

you should use a tablet, then it's just like drawing
no, because you're not looking at your hand, but at the screen

can you tell what's digital?

yes -- digital is unemotional -- not like pastels
people said that about the airbrush
can use an airbrush then add in jitter -- can be subtle with it
perspective is a pain -- digitally it's done for you
increases productivity
still need artistic ability -- most people can produce something "acceptable" in Brice, but not saleable, because it's not artistic

AARON